Entertaining family, friends, and loved ones in the comfort of your own home is special, and it requires adequate spaces to accommodate everyone. Every family is different, each with their own unique set of needs and desires. One thing is certain- everybody has to eat. While the kitchen may be called the heart of the home, the dining room is the gathering place for great conversations. Sharing meals is an intimate experience that brings people closer, creating memories that can last a lifetime. Here at Mojo Stumer, our firm believes the dining experience deserves excellent attention to detail. In this article, we are teaching our readers how to design a modern dining room. In addition, our team will be sharing our favorite luxury modern dining room design details from various past projects, hoping to inspire our readers for their own spaces.  
How to Design a Modern Dining Room
Mojo Stumer focuses our attention mainly on modern and contemporary design, using sleek features, fine lines, and beautiful textures to bring life into dull spaces. When we approach a new luxury modern dining room design project, there are numerous steps that our team takes to ensure it turns out perfectly. If you are asking the question of "how to design a modern dining room?" Our team is here to help.
To start, Mojo Stumer will initially meet with the client to discuss the basic wants and needs for their preexisting space or a brand new room. If the dining room already exists and our team is doing a renovation, the process will look slightly different from a new build which would require further planning on the front end. Many of our clients have large families, so a formal dining room may require a customized table and furniture to accommodate their guests. Some clients may have very small families who want a formal dining space but don't need much seating.
There are many other design ideas for dining room spaces beyond just seating arrangements. Foodservice and buffet tables are required for those who want to avoid going back and forth between the kitchen and dining room areas more than they would like. Having closed doors or an open-concept dining room is also essential, as some clients may want the option for private dining. In addition, decisions on lighting, windows, ceiling heights, flooring, and more go into Mojo Stumer's luxury modern dining room design process.
Mojo Stumer's Highlighted Design Ideas for Dining Room Spaces
Creating a luxury modern dining room design that blends the client's taste and our own while operating functionally takes a strong effort and a keen eye. Our architects and interior designers work together to create synergistic spaces that speak to one another while standing on their own individually. A beautiful modern dining room should be an extension of the kitchen and living spaces while promoting itself as an individual space within any given home. Our team is sharing some of our favorite luxury modern dining room design principles that we have used in our past projects. Continue reading this article for design ideas for dining room spaces that steal the show!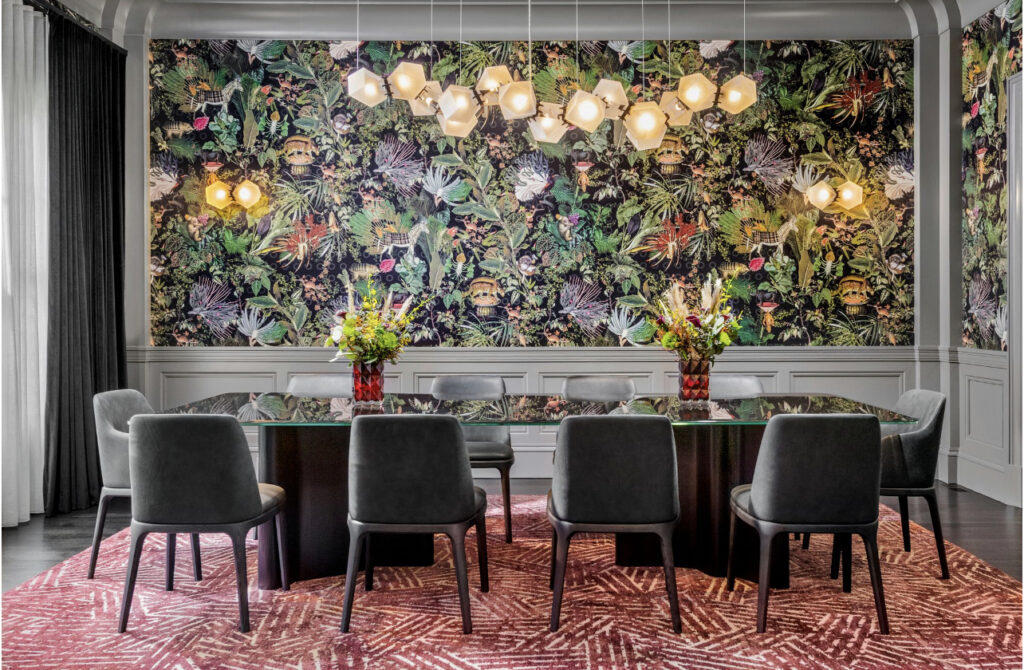 The first luxury modern dining room design project that our team is showcasing is our recent Roslyn Residence project, a direct collaboration between our architecture and interior design firm, and renowned home builder, Jon Bijari Custom Homes. This was a ground-up project, highlighting many of the modern yet traditional elements that Mojo Stumer loves. This dining room features a more open concept dining room with large, open doorways to the foyer and the kitchen. A colorful custom wallpaper wraps the room, while intricate woodwork creates a more traditional feeling. The modern luxury aspects of this design are seen in the Fendi dining set, the patterned rug, and the bright, geometric light fixture that hovers above the table. Tying in many design features at once, this dining room project proved to be a perfect success.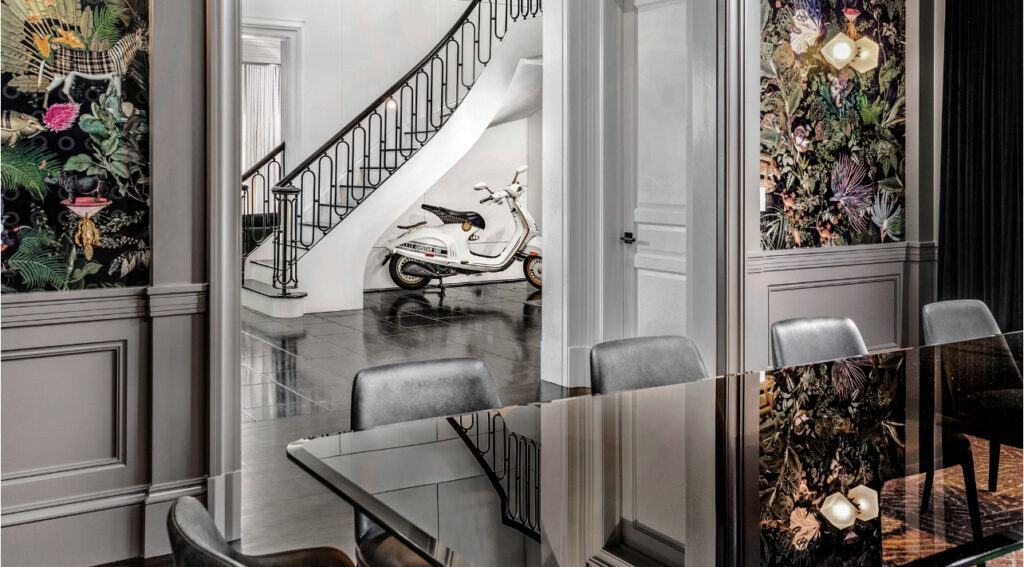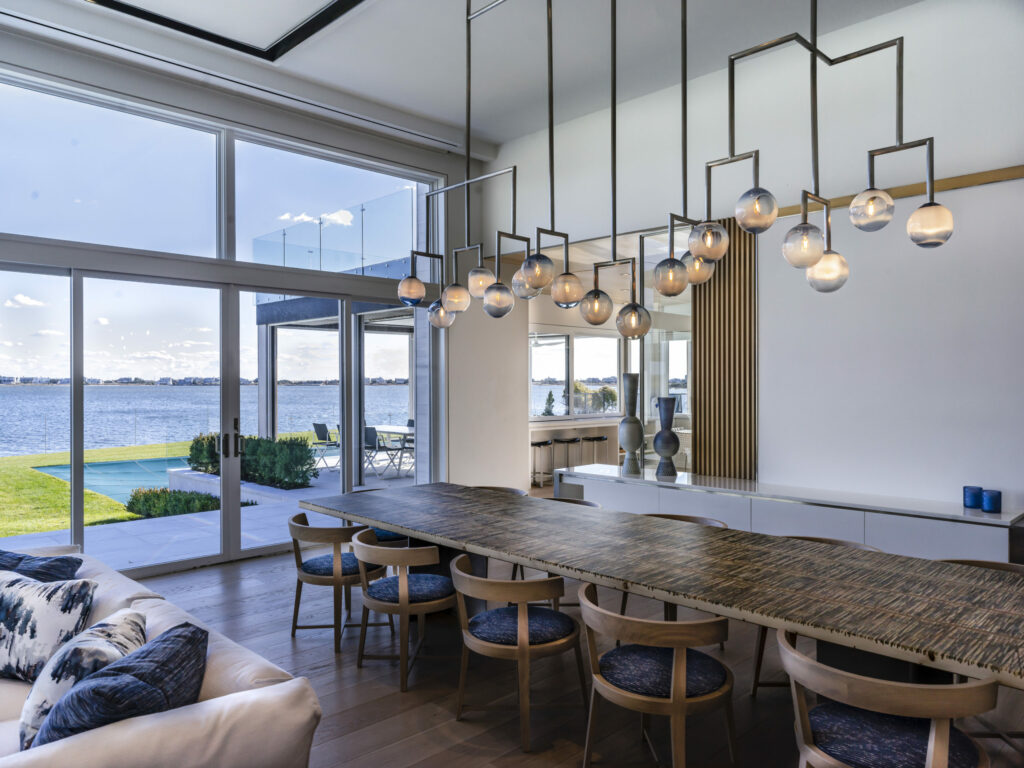 Our next project is found in Quantuck Bay, Westhampton Beach. Mojo Stumer's Quiogue Residence project renovated an existing structure, so the interior and exterior are brand new. The main focus here for dining was to accommodate a large number of individuals, and Mojo Stumer achieved this by creating an open-concept vision that flows between both living and dining spaces. In this scenario, luxury modern dining room design meant using a linear perspective to enhance everyone's view of Quantuck Bay. By placing a large dining table for 12 vertically, every diner can see the water. Behind the table sits a customized buffet table that wraps around in front of the kitchen, with a glass partition to distinguish a difference of space while still letting the light in. This project showcases what open-concept luxury modern dining room design looks like at its peak.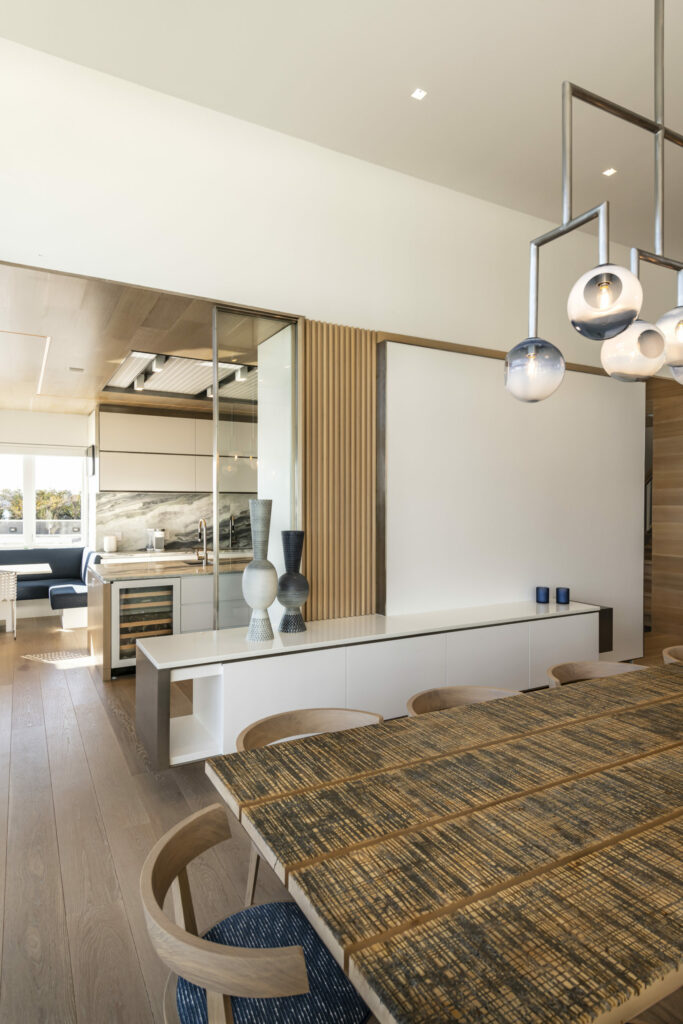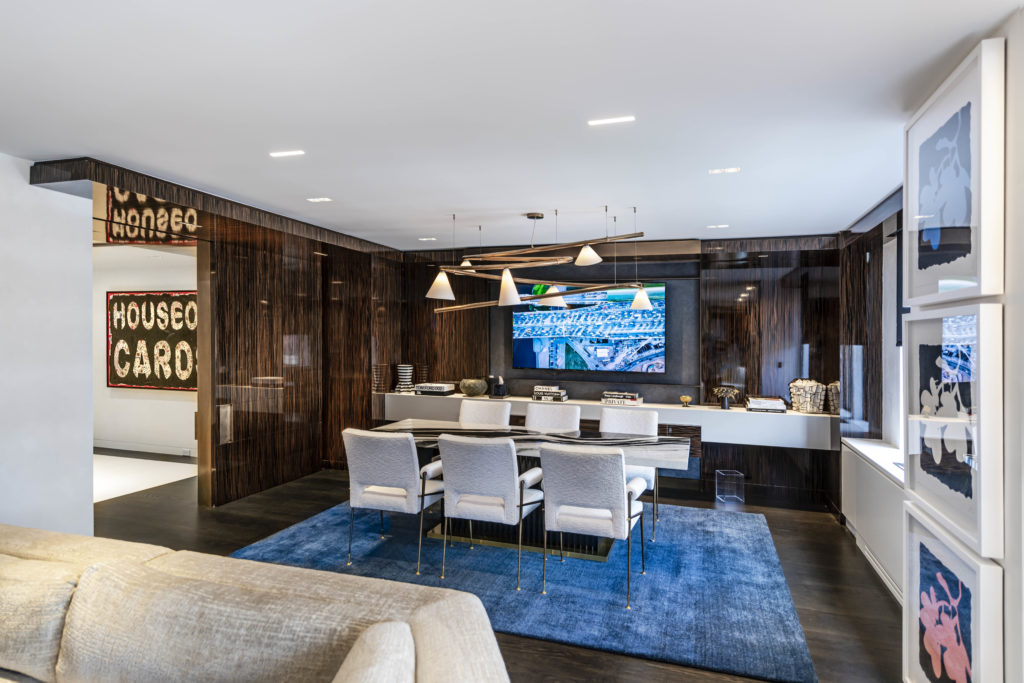 The last highlight of this article is our modern Park Avenue apartment renovation project, where our goal was to blend art with the home in each space. While many of our design ideas for dining room spaces turn towards connectivity to the kitchen, this project broadened our thinking and kept the dining room in a more private area towards the front of the apartment. By doing so, our team created this modern lacquered dining room with its own sense of space (and a sliding wood door). We used a solid stone dining table with a customized floating buffet behind it for storage while anchoring the room with a bright rug for a pop of color against the darker wood tones. Mojo Stumer perfectly encapsulated luxury modern dining room design here, keeping details at the forefront of this project.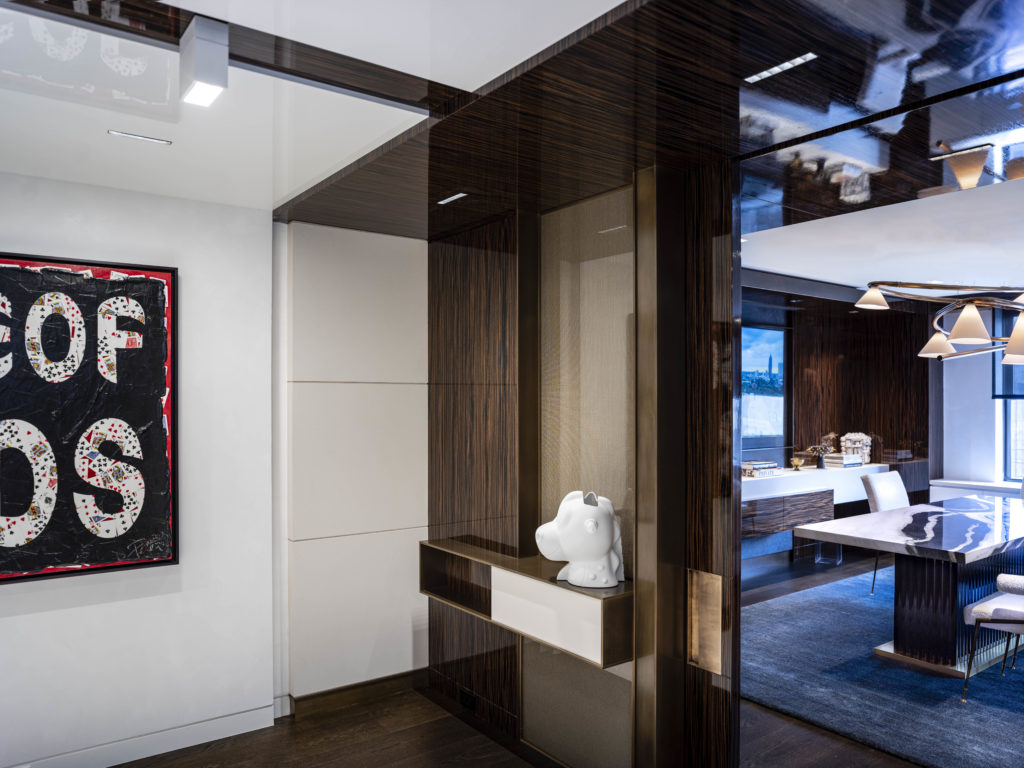 Still Want Help On How to Design a Modern Dining Room?
Don't worry! Mojo Stumer is here to make your luxury modern dining room design dreams come true. With our 30+ years of experience, our firm has a strong understanding of creating the perfect dining experience for your family, friends, and loved ones. Our design ideas for dining room spaces are contemporary, original, and stunning. If you want to create an impeccable modern dining room, please contact Mojo Stumer for a specialized consultation today!