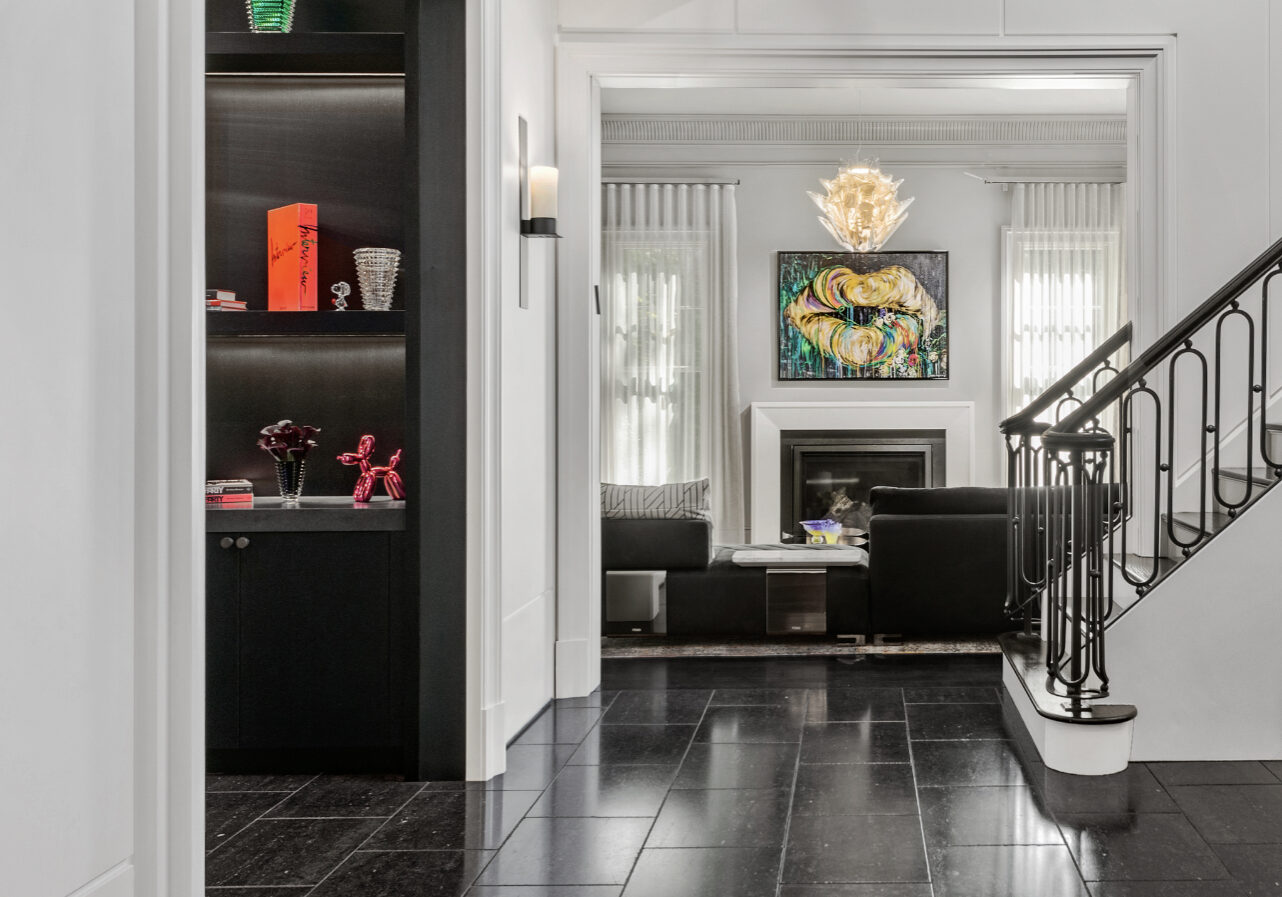 Timeless Transitional: Mixing Modern and Traditional Design
Finding the balance between two distinctive styles is a puzzle that Mojo Stumer embraces quite frequently. Many of our clients have very unique tastes, ranging from incredibly sleek and modern to highly ornate and traditional. Discerning between the two can cause major clashes in the design process if the style isn't hammered out correctly, which is why a strongly experienced architectural and design firm is needed when wanting to combine multiple styles into one.
Coming to the understanding of "what is architectural style?" and "how does mixing modern and traditional design work?" takes time, and it requires a very detailed set of conclusions. To define the question of "what is architectural style?" Mojo Stumer takes a step back and urges clients to take a look at the bigger picture, much larger than the property itself. Architectural style is a basic set of characteristics about a structure or building that sets itself apart from others based upon its design features, which many can be historical in nature. Some examples of architectural styles include Georgian, Victorian, Modern, Mediterranean, Traditional, and Transitional. Many of these architectural styles bleed into one another, providing a higher level of "uniqueness" to the said property that decides to mix styles. Today, Mojo Stumer is focusing on one of the most timeless styles of them all- transitional architecture and transitional interior design. 
Transitional architecture lends itself to be an undefined mixture of traditional and modern designs. Many times this means the architectural aspects of the home tend to be more traditional, while the interior design tends to be more modern. In some cases, the architecture can be more modern, while the interior design lends itself to be more traditional. A true transitional style will have aspects of both modern and traditional, married together in a way that will leave guests speechless. Now that we have covered "what is architectural style?," and "how does mixing modern and traditional design work?" we want to dive into the world of transitional interior design and the beauty that it can create.
Most recently, Mojo Stumer had the pleasure of collaborating with Jon Bijari Custom Homes to combine forces and create a one-of-a-kind residence for a client. For this project, Jon Bijari Custom Homes managed the transitional architecture portion of the project, while Mojo Stumer tackled the transitional interior design part of the project. By bringing two powerhouse firms together, we were able to bring individual areas of expertise into a singular and concise expression of built architecture for the client.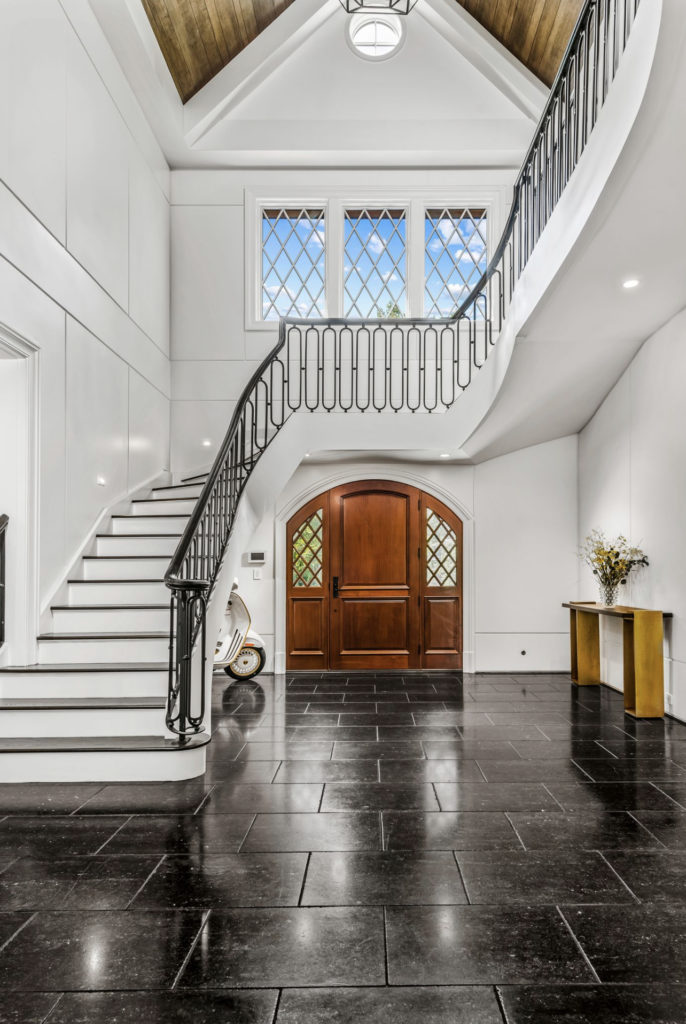 Starting in the foyer of the Roslyn Residence project, it is noticeable that the window grilles are reflective of more traditional stylings, while the black Calcutta marble flooring and grand staircase vaulted above the front door breathe modern life into the space. In addition, modern light fixtures and recessed lighting throughout create a sense of updated living. White wood paneling stretches up to the natural wood paneled ceiling, which brings a sense of warmth to the colder flooring that resides below.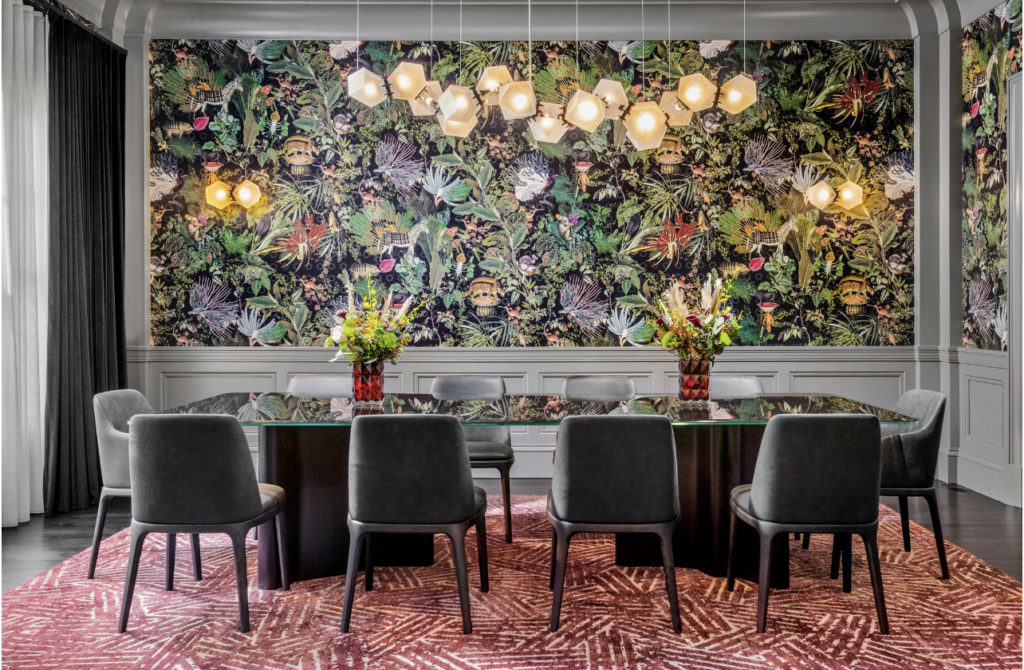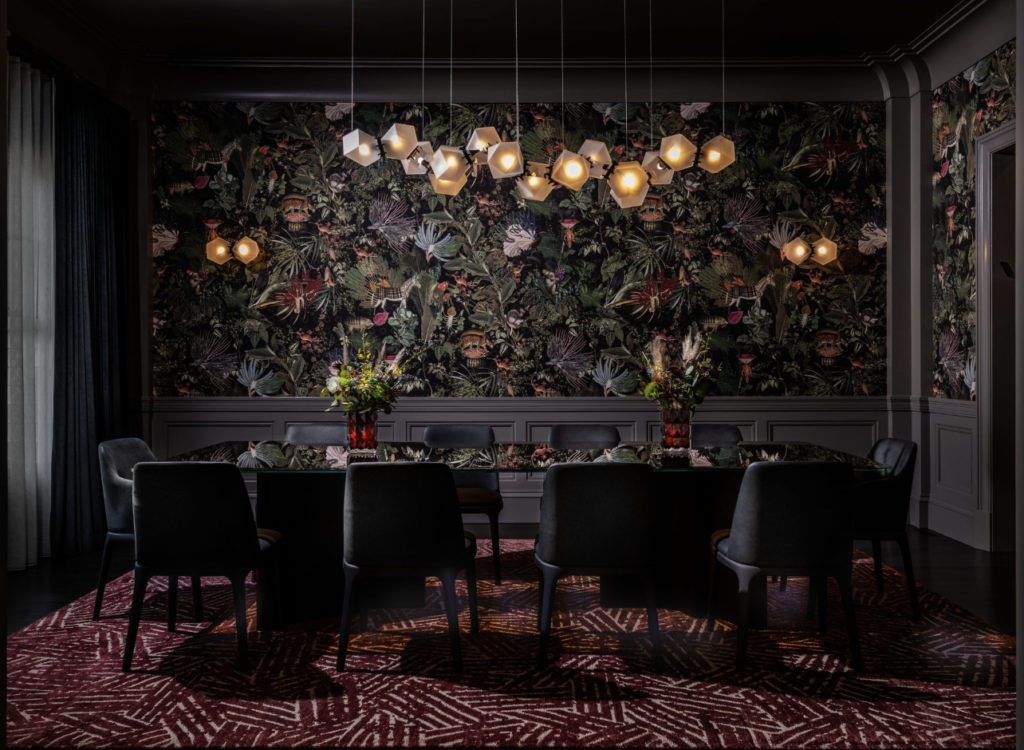 The dining room is nothing short of a transitional interior design masterpiece. The traditional wall and ceiling moldings add sophistication to the space, while the beautifully modern Fendi dining set centers the room around a geocentric layered modern chandelier. All of this is the perfect backdrop for the wallpaper here, which resembles one massive piece of art more than anything else. The best part? The dining set has a reflective tabletop, reversing images of dancing lights and tropical palms during the day as well as during the night.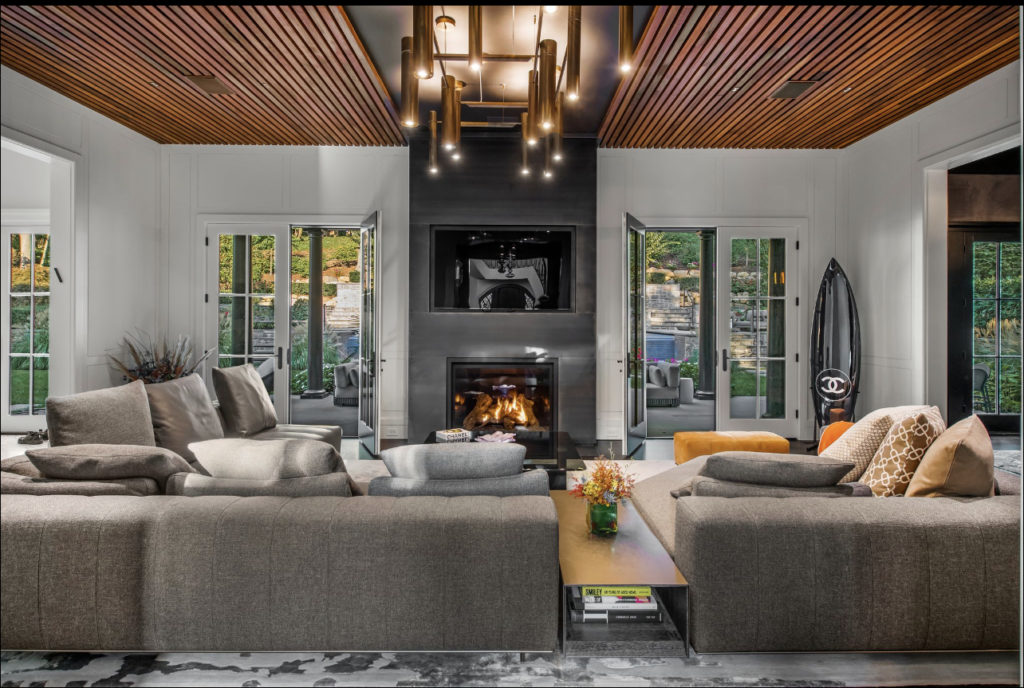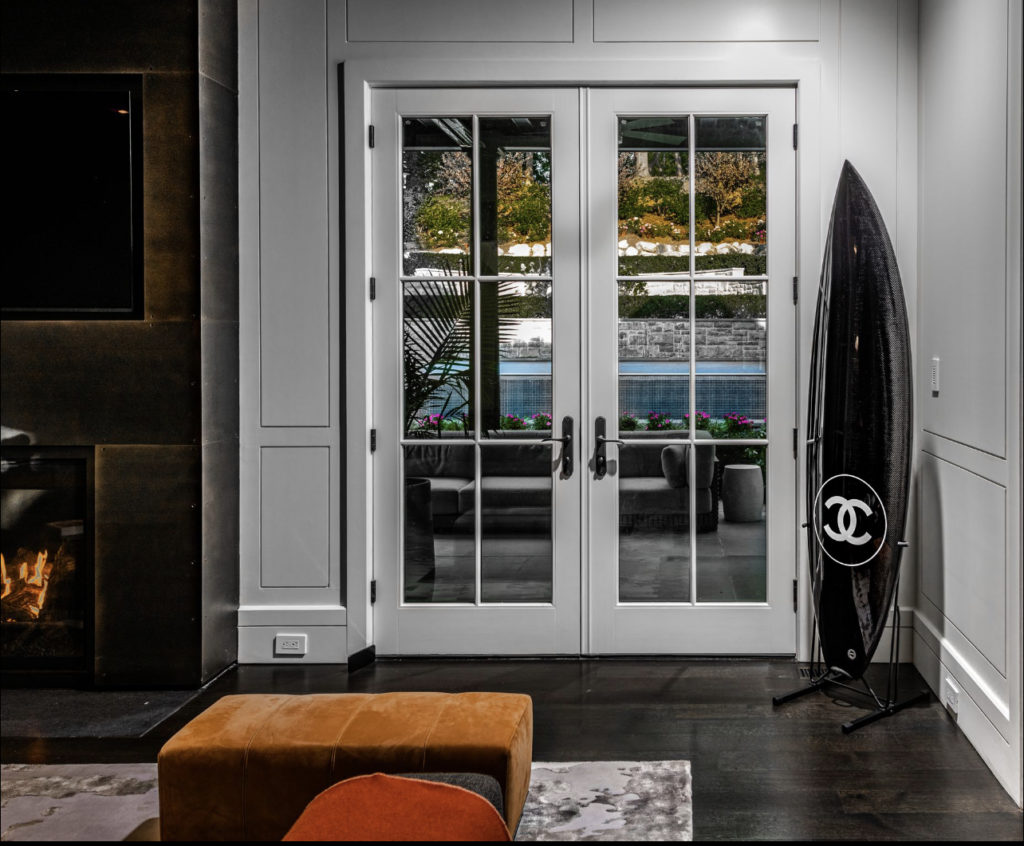 It was important in the design process to create a living room that was much more cozy than ostentatious, and Mojo Stumer nailed this room perfectly. The modern wood paneling on the ceiling adds warmth in conjunction with the cladded fireplace, while the double glass doors flanking the fireplace bring in a great deal of natural light throughout the day. This room was big enough for a statement sectional with lots of pillows and added artwork throughout (including a custom Chanel surfboard). The bronze cylindrical lights cascading down the center of the room truly help to anchor the space together.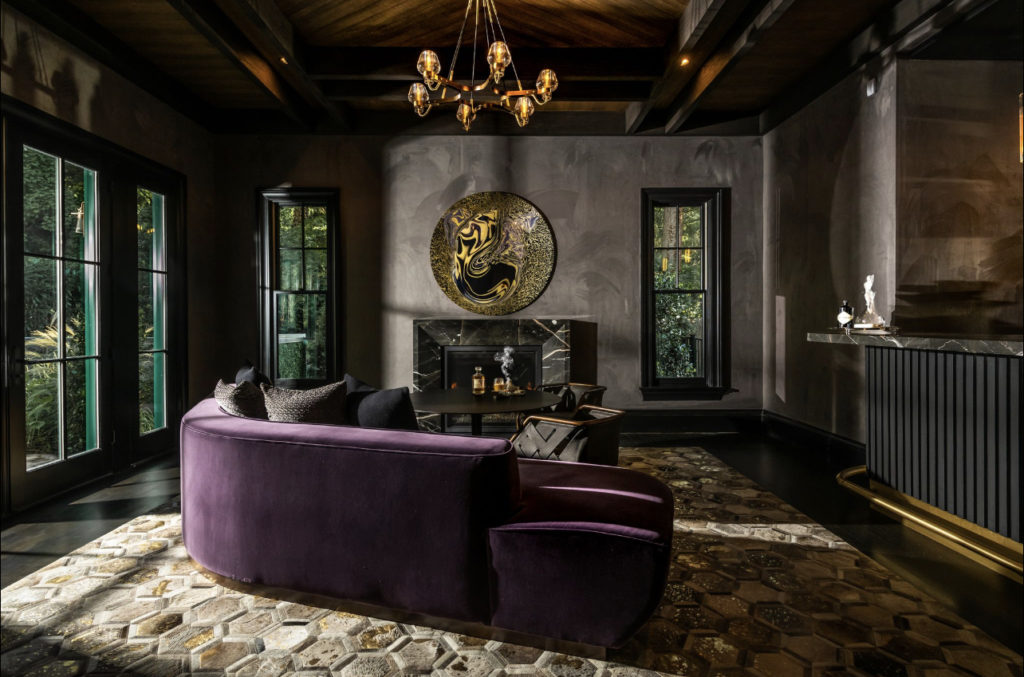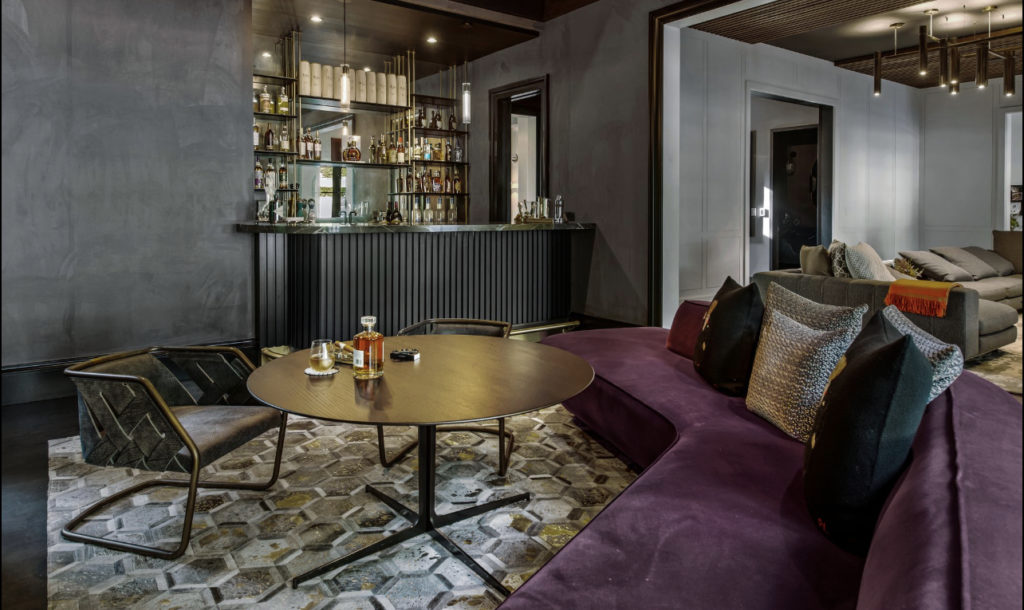 One of the strongest transitional interior design spaces found within this home is right where the bar is. This moody room was created with ambiance in mind, which was achieved by using dark wood paneling throughout, complete with textured walls and dark hardwood floors. The fixtures are all traditional in style with their own modern take, and the geometric rug pairs perfectly with the organically shaped couch for a transitional flair. This entertainment space is a wonderful example of how mixing modern and traditional styles can work to your advantage to create a dazzling conversation zone in your space.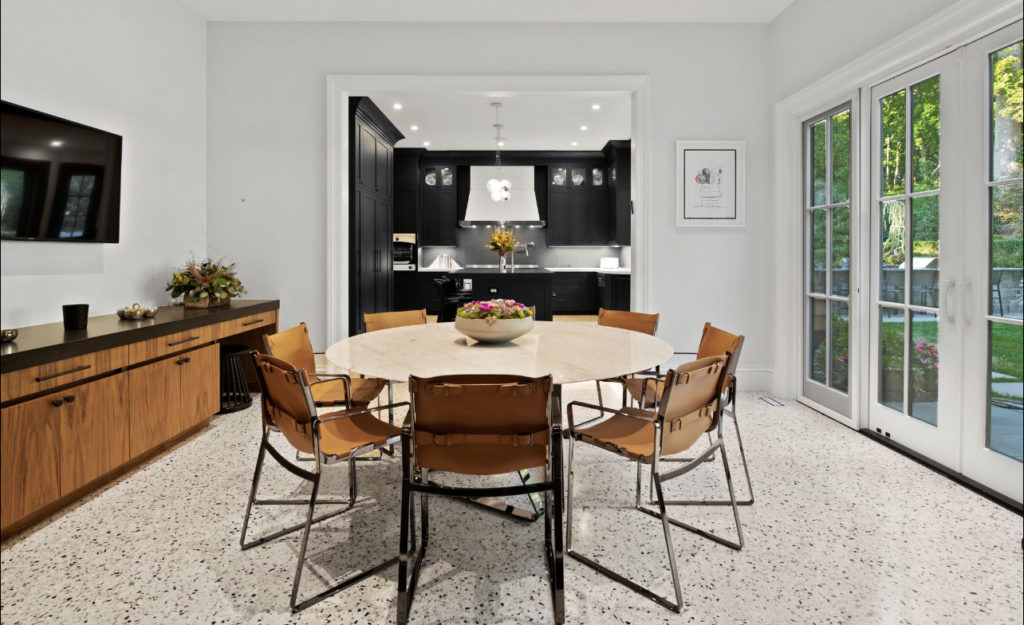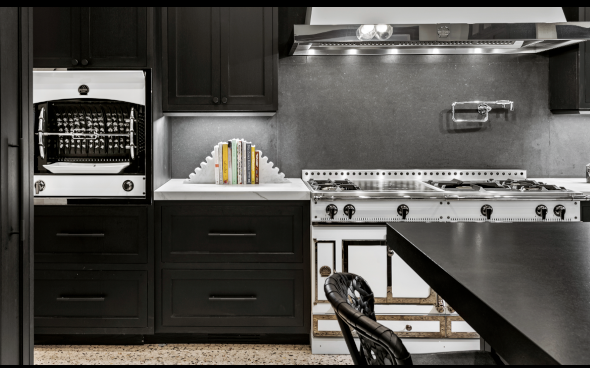 One of the most exciting places in the home where transitional interior design comes to life is the kitchen and eat-in areas. In our Roslyn Residence project, Mojo Stumer went with a modern black-and-white juxtaposition between the eat-in kitchen and the cooking areas. The long, counter-topped buffet is a multi-functioning area that can be used not only for serving but can be a great place for arts and crafts, storage, or additional bar space if desired. Moving into the kitchen, one of our favorite features is the massive, white french-style range, complete with a pot filler and a matching white hood. The vintage feel of the range, with the modern cabinetry and other appliances, is truly what transitional interior design is all about.
Mixing modern and traditional architectural and interior design styles is a work of art within itself. Finding the symmetry between the two is always a challenge that Mojo Stumer embraces, and this project, in conjunction with Jon Bijari Custom Homes, was no different. We created the perfect blend of transitional architecture with transitional interior design, giving the client a one-of-a-kind experience that they can share with their friends and family for a lifetime of memories to come. If you are interested in starting your own project, reach out to Mojo Stumer for a consultation with one of our architects and designers today!