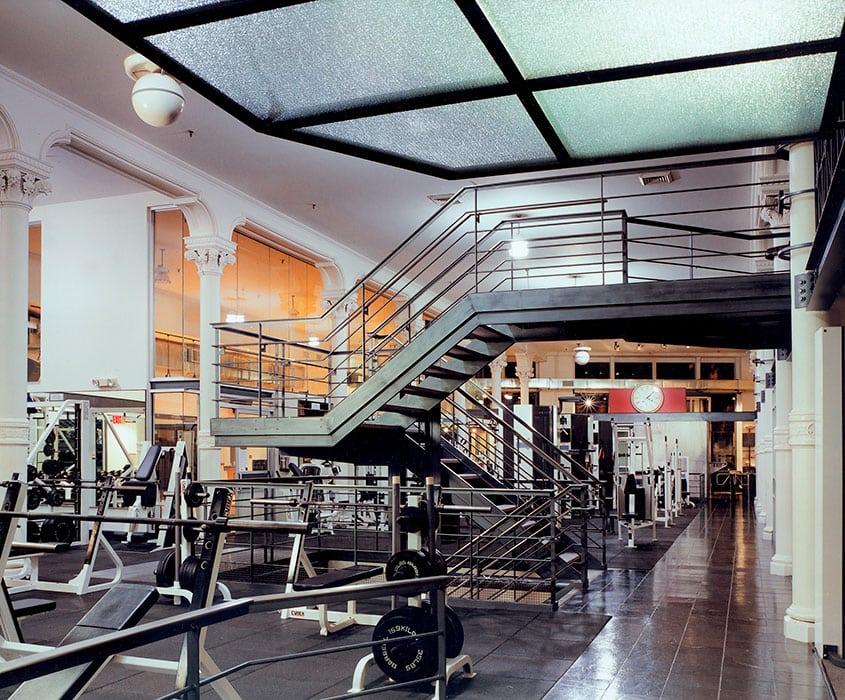 New York Gym Architecture Services
Designing a gym that is not only incredibly functional but also pleasing to the eye is hard to come by. Our team of architects and designers at Mojo Stumer is one of the few firms that truly knows how to make a gym more than just a space to exercise. Our team recognizes the importance of locker rooms, baths, saunas, spas, and smart spaces to work out in. New York gym architecture has the ability to be nuanced and artisanal without coming off cold, and Mojo Stumer aims to achieve that with our projects.
Mojo Stumer begins a New York gym architecture project by first connecting with the client to make note of what kind of atmosphere they want to create for their members. Some clients desire large, open spaces with lots of room, while others may want more defined, separate spaces that are dedicated to various exercises. Our team takes this information into account before floor plans and interior design goes into place. Once the collaboration has reached an agreeable plan, Mojo Stumer works to build out the perfect flowing gymnasium that meets the needs and wants of the owners and members alike.
New York gym architecture services are the perfect match for modernity and sleek design. Our team uses clean lines and varying color palettes to curate the exact aesthetic desired while incorporating natural woods and metals to add to the contemporary look. No gymnasium is the same, and Mojo Stumer strives to push the boundaries in order to create truly beautiful spaces that feel effortless at the same time.
2 Featured New York Gym Architecture Projects
Our Great Neck Community Center was created with multiple purposes in mind, but fitness and athletics were at the heart of this development. This New York gym architecture project was an incredibly large one, which included three basketball courts and a large fitness center. Each space was designed with members in mind. Mojo Stumer's stamp of contemporary design can be seen throughout, right down to the lighting, textiles, and mixed materials that are used.
Mojo Stumer has had the privilege of designing various Equinox gyms around New York. These New York gym architecture projects are carefully crafted to reflect the exclusive nature of Equinox's facilities and their member base. Every last detail is noted and addressed, and the old New York architecture was preserved in the Corinthian columns and ceiling heights while new steel and glass additions create a newfound flair.
Get Your New York Gym Architecture Project Started With Mojo Stumer
Mojo Stumer invites you to schedule a consultation with one of our architects to reinvent your Fitness Center or Gym. Our team of architects and interior designers is the best in the field, and Mojo Stumer is here to bring new ideas to your table. No matter what type of new or existing space you want to reenvision, our New York gym architecture services will be able to create dynamic spaces that flow perfectly to provide the best experience for your members and guests.