There is a significant difference between working on a retail project versus a residential one. Retail stores are getting increasingly more diverse in their offerings, pushing designers and architects alike to engage the customer more than ever before. Retail formats vary based on industry, but this blog post will focus the majority of our attention on traditional retail and fashion boutiques.
Before diving any deeper into the overall design process of a modern retail store, purpose and intent must be determined. Normally this comes from the client, as they tend to have an idea of what they are going for and who their target audience is for their given space. During this period of time, it is important that the architects and designers take careful consideration of what the client is proposing. Brainstorming and creativity are pivotal in finding the perfect balance. As much as it is important to hear the client out, it is the responsibility of the firm to revisualize the given space in a fresh and unique way. Once the concepts have been thoroughly combed over and agreed upon, drafting and designing on beings on paper.
There is a necessary flow that is needed to be present in any modern retail store design in order to be functional. There is a common misconception nowadays that the presence of modern design infers a lack of functionality, but that is not the case. While there are modern designs out there today that are more installation-oriented than functionally oriented, Mojo Stumer aims to blend all of this into one, seamless design. This caters to the aesthetics that clients dream of while taking care of customers' needs for the purpose and performance of the retail space itself. Many of our retail store design ideas have spurred from the mixed-use of fixtures, textures, and materials. Curating the perfect interior for a modern retail store requires understanding the needs of the customers. A high-end boutique will require great attention to detail regarding the changing rooms, lighting, overall ambiance, and ease of check out/mobility throughout the store. A mixed-use retail development will require distinct signage, defined store spaces, and well-thought-out parking access. Each type of space needs its own special attention.
Our Glen Cove Road and Northern Boulevard High End Shopping Plaza project is a shining example of how modern retail store design can be applied to a full development, not just to a single storefront. The combination of a busy street corner and a streamlined silhouette is what makes this plaza stand out from its neighbors. Limestone, glass, and steel are used intentionally to bring an industrial, modern feel to the development. This eye-catching corner design is sure to increase traffic to this once-dead shopping center.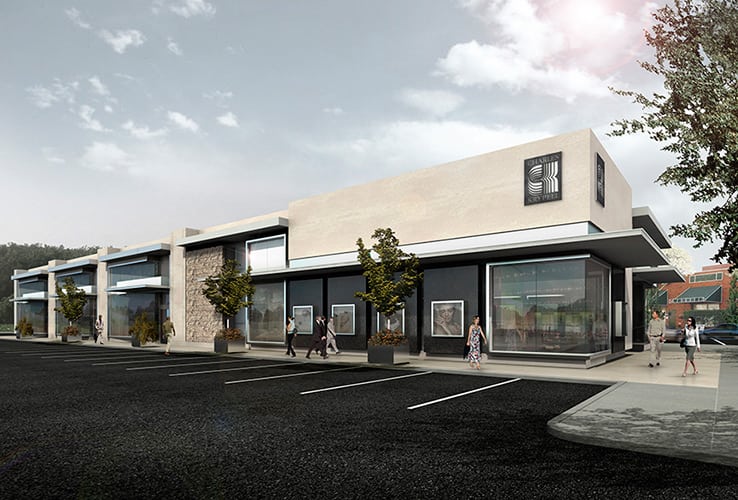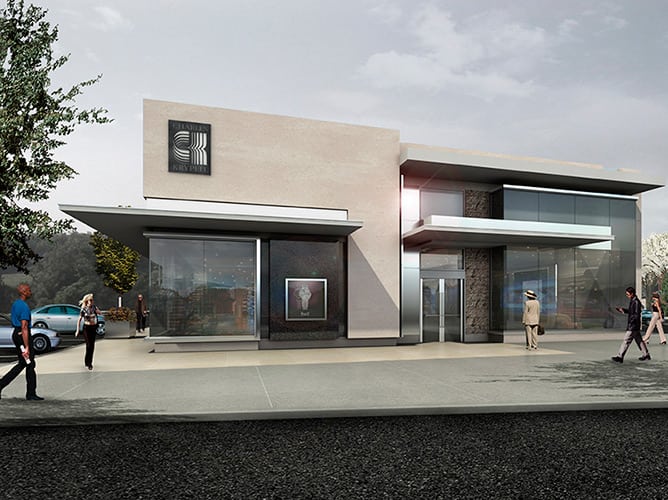 When it comes to retail store interior design ideas, some of the best concepts come from meticulously combining a brand's image with its storefront. Having a cohesive look from top to bottom will make any space feel well-rounded. The cleaner the look, the more attractive the retail experience will be for customers walking in the door. In our REALM Boutique project in New York, we built out a modern yet Parisian design that paid homage to the classic European designers they keep in stock in the store. The challenge with this space was the predetermined narrow size of the store itself. To create the illusion of a larger space, our team designed an exterior foyer to hide the rest of the store from the outside in order to draw in curious customers. By keeping the products at the forefront of the design here, the clothing and accessories act as part of the architecture, leveling up the look as a whole.
Modern retail store design has revolutionized the way we view the day-to-day shopping experience. Aesthetics are of growing importance in consumers' minds, and now more than ever we are seeing a push for differentiation in all aspects of the retail environment.
Mojo Stumer believes that our retail store interior design ideas have contributed to the continual positive change of the retail landscape, especially in the New York area. Modern retail store design is moving in exciting directions and Mojo Stumer is proud to be at the forefront of it all!