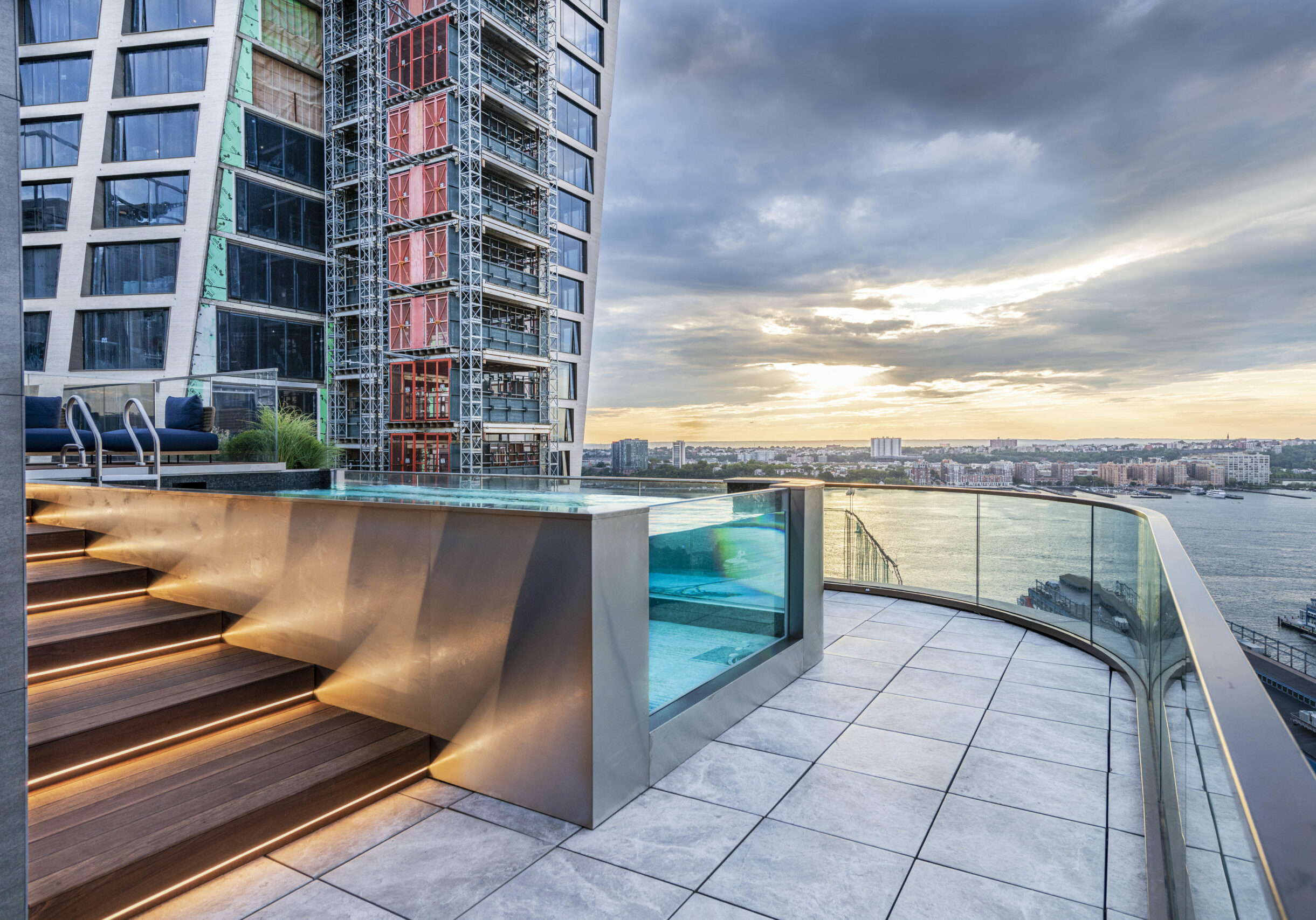 How to Design Outdoor Living Space for Optimal Flow
The marriage of indoor and outdoor living should create a seamless connection from one to the other. No matter if the project is residential or commercial based, Mojo Stumer focuses heavily on designing unique spaces which speak to the transfer from the inside to the outside. Knowing how to design outdoor living space that complements the exterior architecture takes major attention to detail. Mojo Stumer has been integrating beautiful indoor and outdoor living spaces since 1980, and we are proud of our track record. Our approach always depends on the scope of the project itself- is it an outdoor project to be added to a commercial building for employees to get some fresh air? Is it a full residence and outdoor space, complete with a pool? Or is there an existing home that needs a complete outdoor renovation? From there, Mojo Stumer takes an individualized approach to each space to best understand the client's needs and priorities for the integration of indoor and outdoor living while ensuring there are optimized flooring flows from indoor to outdoor spaces.
Maximizing Space
When dealing with an outdoor area that is heavily regulated (ex. a New York City rooftop), certain precautions and measures must be taken before true design can come to life. In our Lantern House rooftop project overlooking Highline Park, Mojo Stumer had to work around rooftop equipment and strict limitations of FDNY access requirements limiting the use of the space. Once all of the logistics were worked around, we were able to create an indoor and outdoor living that all flowed seamlessly into one another.
The pool area is raised to maximize Hudson River views, making the sunken grassy lounge area next to the outdoor kitchen feel like its own level. Complete with an outdoor dining table and a retractable awning, this lush green rooftop is the perfect getaway in the middle of bustling New York.
Open Concepts to the Outdoors
One of the most difficult design principles to implement is proper flooring flows from indoor to outdoor, allowing a natural motion to pass throughout the space. In our Quiogue Residence project in Westhampton beach, we realized how important it was to have a solid connection between the kitchen and the covered patio set above the pool. Mojo Stumer's solution? A marble-clad waterfall countertop bar facing the water, with sliding windows that open directly to the patio. This design allows for conversations, food, and beverages to flow from inside to outside without interruption. In addition, the living room has stunning floor-to-ceiling sliding glass windows and doors that draw your eyes to the water across the way. By creating this connection to the outdoors, Mojo Stumer was able to bring the outside in and preserve the beautiful natural views that this property possesses.
Al Fresco Dining
Determining how to design outdoor living space is truly a personalized process, and it was no different for our West Side Terrace project. In collaboration with Town & Gardens landscape architects, the Mojo Stumer team aimed to create a beautiful outdoor terrace for a West Side penthouse in Manhattan. The use of greenery, wood tones, metals, and stones around the terrace creates a great variety of texture for the space. A large dining table and chairs are set across the terrace overlooking Central Park, providing the most serene, private al fresco environment one could imagine. The addition of the water feature and stainless steel grill elevates the experience of having the perfect indoor and outdoor living concept that is functional yet aesthetically pleasing at the same time.
Contact Mojo Stumer Today
Accomplishing indoor and outdoor living that mesh with one another is not an easy feat for all properties. Space limitations, permits, terrain, and other factors play into what the final product will look like. Creating flooring flows from indoors to outdoors that won't compromise design is of high importance for our clients. No matter the size or space, Mojo Stumer is dedicated to curating a unique outdoor space that reflects the current architectural elements of any project we're working on.
If you are interested in learning more about our process, please do not hesitate to reach out to our team for more information!