Thriving cities need walkable epicenters that foster a sense of community for everyone. Typical American cities and towns have had their fair share of communal downtown areas, but the resurgence of true, walkable mixed-use development has been skyrocketing over the past decade. There is a stronger desire for living close to work, having accessible shopping, and finding great places to dine all in the same area.
If someone asked our architects, "what is mixed-use development?" our typical response would be creating a combined communal space that flows from housing to offices, to restaurants, to shopping/services, all in one large developed project. There are many great examples of mixed-use architecture around the United States, and today Mojo Stumer is focusing on a few of our own mixed-use developments in New York to highlight.
Why Is Mixed Use Development Important?
In general, mixed-use architecture is great for increasing accessibility for people of all ages. It allows pedestrians to enjoy a variety of different stores, services, restaurants, and more with added safety and convenience. Beyond the simple answer of "building community," mixed-use development also brings a wider range of environmental and economic benefits to the table.
To start, mixed-use architecture spurs economic revitalization for certain areas with slower-moving growth. These developments tend to bring a range of new jobs to communities that need them, but also large investors who may want to join in on the redevelopment. Many times, one mixed-use development will spawn another, with its own set of advantages and specialty offerings. By developing land and infrastructure efficiently, it leads to long-term economic growth in areas that need it.
One of the greatest factors that mixed-use development promotes is walkability, which in turn reduces the vehicular traffic seen in these areas. Many of these epicenters have their own walking and biking trails as well, all with the same goal of reducing traffic and increasing pedestrian safety. Walkable downtown developments reduce auto dependency, road congestion, and air pollution by placing multiple destinations in one singular area instead of having them spread out.
Most of the modern mixed-use architecture projects that have been built are also providing multi-family housing options, with many of them being notated as affordable housing. In the current economic climate we are in, there is a huge need for affordable multi-family housing options in many different cities across the country. Mojo Stumer works with our clients directly to understand the specific needs of the mixed-use development so that housing options are the right fit for the right parcel of land.
Mojo Stumer's Mixed-Use Architecture and Development Projects
Now that we have covered "what is mixed-use development?" and why they're important for communities to have, our team wants to show you a few of our own designs! Every project has different needs, but the final result is always a beautifully designed development with curated interiors that will take your breath away.
301 Warner
One of our greatest mixed-use developments to date is 301 Warner in Roslyn, New York. This project is a transit-oriented development that has the goal of reinvigorating the neighborhood of Roslyn Station, as it is just a few steps from the LIRR train platform. This mixed-use development is programmed to bring retail, office, and multi-family apartment living to the area in a building carefully designed to create a new walkable street environment connected to the train station nearby.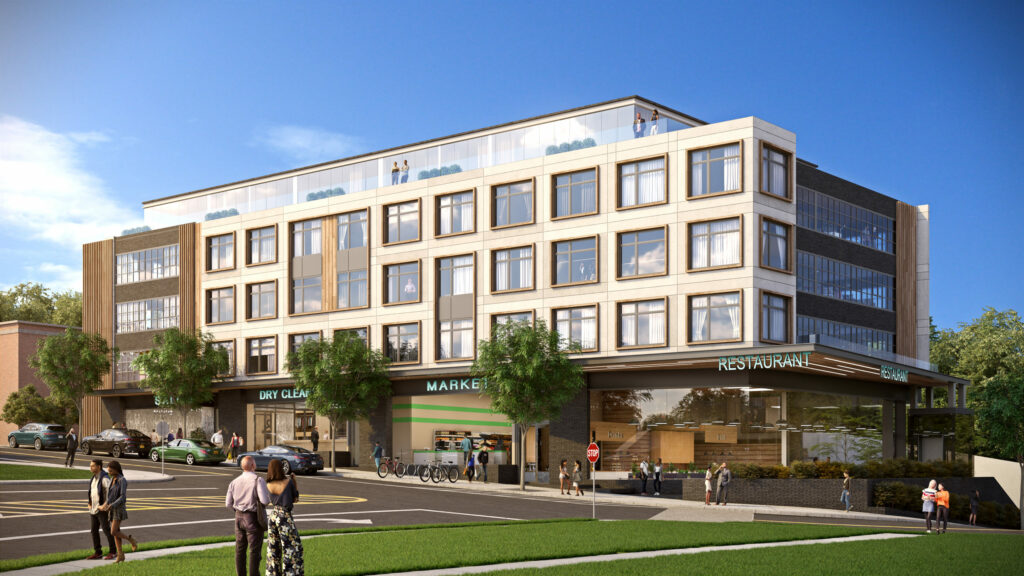 Set on a site with grade variations of over 20 vertical feet, 301 Warner is a masterpiece designed for the everyday pedestrian. With 3-4 retail selections for lifestyle use and a large communal corner restaurant and bar, this mixed-use development has the potential to bring a brand-new vibe to the city of Roslyn Station.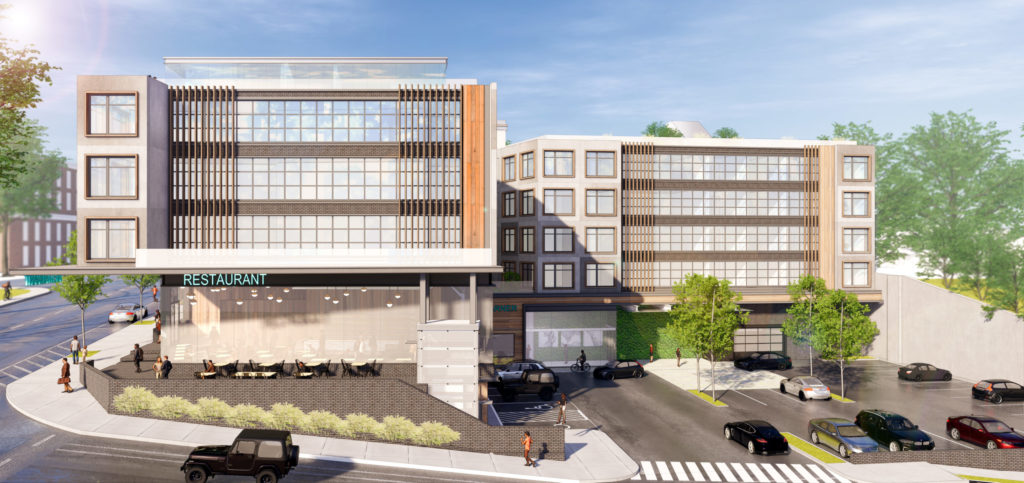 The combination of below-floor retail and dining with multi-family housing above provides the perfect example of how mixed-use architecture works in harmony with an existing neighborhood. Aesthetically, this development caters to the modern living that so many citizens are looking for in a home.
16 Maple Drive
Our 16 Maple Drive mixed-use development project is another fantastic example of marrying modern retail with multi-family housing above on a densely populated city corner in Great Neck, New York. Our focus here was to stand out with modern design while incorporating natural light and privacy at the same time. The end result is a beautiful facade with angled windows to capture more natural light, with vertical slide slats to provide continual privacy.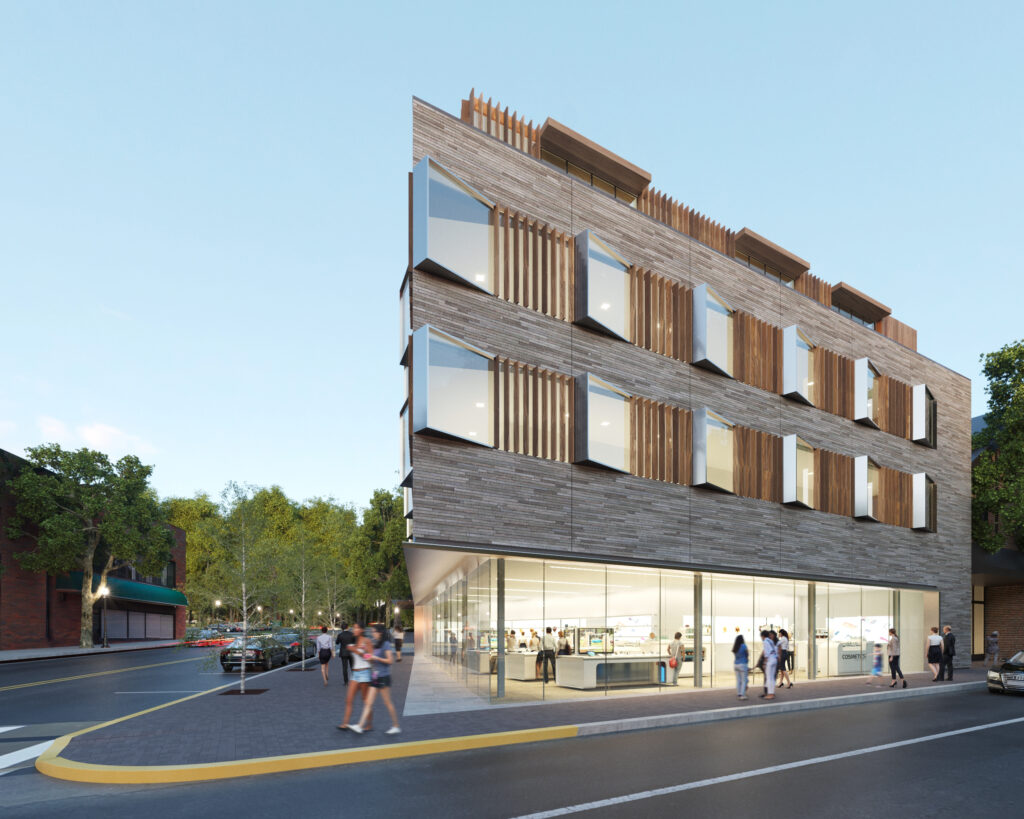 Mojo Stumer's use of modern mixed-use architecture shines bright here, with wall-to-wall glass for the first floor of retail. With plenty of sidewalk room and an integrated use of trees and plants, 16 Maple Drive is a truly unique development that brings a different sense of aesthetics to this historic incorporated village in Great Neck, NY.
Mojo Stumer Has the Leading Mixed Use Development Architects
Mojo Stumer has operated in New York for over thirty years, and our expertise in urban planning, mixed-use architecture, and development fuels our work forward. We are passionate about creating dynamic city centers and revitalization projects that promote economic and environmental development. To learn more about our approach, please contact Mojo Stumer today for a customized consultation that will bring your mixed-use development dreams to life!