One of the more unique architectural project categories that Mojo Stumer has involvement in is bank architecture and modern bank branch design. Widely different from residential and traditional commercial office space, banks are spaces that must provide ease of access and excellent customer service experience, as well as unmatched security and safety. Combining all of these elements into a space that flows seamlessly from one area to another requires diligence in collaboration, planning, and design. Our team here at Mojo Stumer has had the opportunity to tap into contemporary bank design principles while pushing the boundaries to meet heightened expectations.
What Differentiates Traditional and Modern Bank Branch Design?
For a very long time, most physical American bank branches were designed very traditionally, with classic columns, bricks, stones, and other traditional materials. This classic style of bank architecture has since become outdated and less desired. Over time, a more contemporary bank design has been curated by many national and global banks, leaning on the modernity of design to reflect their twenty-first-century values. This new wave of architecture has given new life to what bank branches can be, providing a more welcoming experience for all. Modern bank architecture differs from traditional architecture in the sense of materials being used throughout. Steel, glass, lacquers, concrete, and varied metals are becoming wildly popular amongst local and national banks. Mojo Stumer takes modern bank branch design to its fullest potential, working towards creating beautiful spaces that serve more purposes than just getting clients and customers through the door.
How Contemporary Bank Design Can Foster Financial Success
Many of our banking clients have turned to Mojo Stumer when they realize they need a new and revived space that will instill confidence in their consumers. Many physical traditional bank branches with outdated facades and interiors may turn away potential customers who are seeking a better visual experience. While the bank itself is the most important part, visuals play a key role in people's decisions on whether or not they want to take their business somewhere. The use of modern bank architecture and design plays to the visual senses, allowing customers to feel safe and secure with their finances.
A bank is so much more than its physical job of being a financial institution, and Mojo Stumer believes that aesthetics play a part in every business, whether or not it's realized at first. Our portfolios consist of multiple modern bank architecture and contemporary bank design projects, and we will be sharing some of our favorite design principles from a previous project below.
Bank of Smithtown
In our Bank of Smithtown project in Huntington, NY, Mojo Stumer was tasked with creating a neighborhood financial epicenter for the ordinary investor. Our team put a modern bank branch design twist on traditional bank architecture. Our client desired a friendly, state-of-the-art banking facility that catered to the needs of their varying customers. Mojo Stumer took an aggressively contemporary approach and used modern mixed materials and linear design to create this naturally lit bank branch.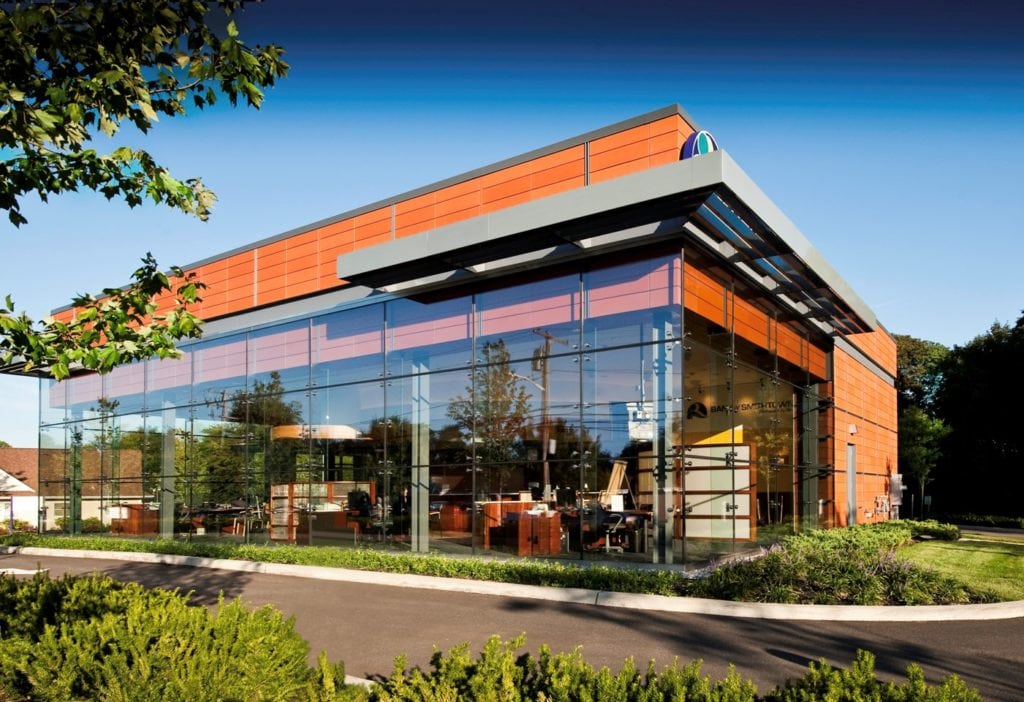 Mojo Stumer wanted to create a unique exterior that would bring in large amounts of natural light while still providing privacy in other areas of the building. The contemporary bank design highlights the use of terra cotta panels for the unique facade color while showing off stainless steel louvers and structural glass stack walls that speak to the modernity of the facility. The linear aspects of the steel louvers cast shadows around the building from sun-up to sun-down, creating a sense of inherent movement.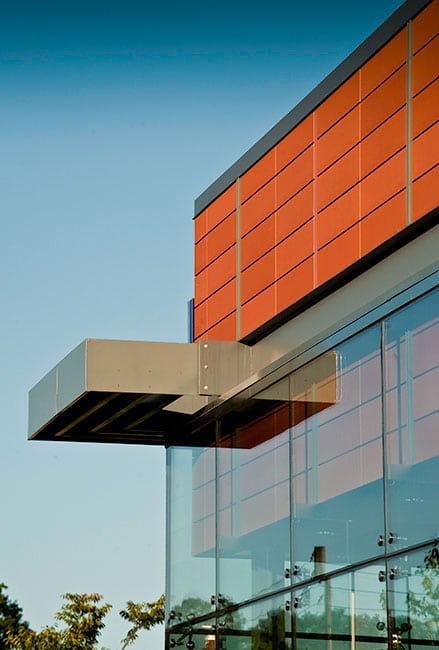 Drawing on the interior, the Bank of Smithtown wanted a truly modern design that would give customers ease of access to their employees. Mojo Stumer decided to remove the traditional bank teller line and have friendly staff at individual kiosks with seating instead. Modern bank branch design is moving towards flowing spaces that give people more room to breathe, especially in a post-COVID-19 era. This is a purposeful design that is aimed at giving people a better sense of security where they need it the most. Mojo Stumer decided to utilize interior materials that were durable, and our team created a color palette that was simplistic and pleasantly bright.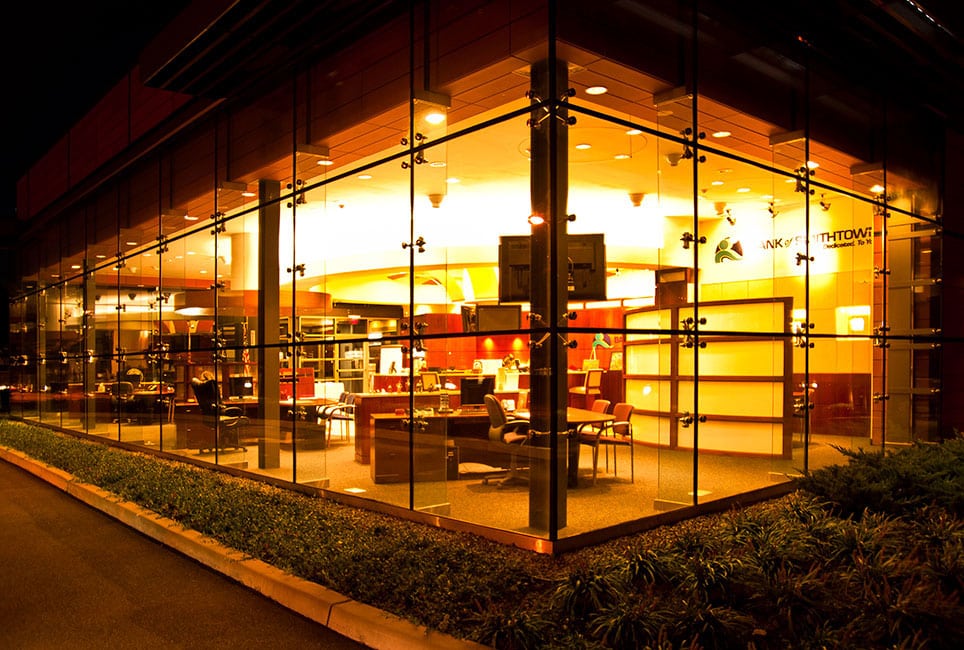 Allow Mojo Stumer to Reinvent Your Bank Architecture for the Modern Century
Contemporary bank design is a prime example of how a business can invest in its assets to provide a strong return on investment. Mojo Stumer's experience with modern bank branch design provides a nuanced understanding of financial institutions, making us the premier choice for a renovation or a ground-up project. If you are looking for a consultation with an architect and design firm for your bank branch, schedule one with us today!