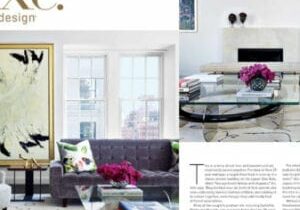 Our beautiful Park Avenue Apartment has not only been selected to be featured in Luxe Interiors + Design Magazine, but is also on the front cover!! We are extremely proud and honored to have been chosen.
This project was definitely unique and at the same time fun to design. MSA first designed this apartment 25 years ago. As time has passed, it was definitely time to redesign and modernize the apartment!
The original apartment was a showcase for their Art Deco furnishing, glass collections and their prominent art collection. The new concept's goal was to be a minimalist apartment providing an opportunity to display and support their amazing art collection curated over 30 years. The interior design was done in collaboration with the multi-talented owner. The architecture had to be contemporary to complement our client's philosophy and ours.