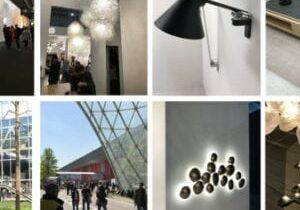 MILAN FURNITURE FAIR 2017
Posted in
Architecture
,
Blog
,
Collaboration
,
Community
,
Corporate
,
Design
,
Events
,
Furniture
,
Inspiration
,
Installations
,
Interiors
,
Lighting
,
Modernism
,
New Materials
,
News
,
Uncategorized
Another year goes by and again I return from the amazing design world of the Salone Del Mobile in Milan, the most important and largest Furniture Fair in the world. Over 350,000 people from all over the world come to the city for this event – architects, interior designers, product designers, manufacturers, store owners, etc. The city is crowded, the restaurants are booked, the hotels double their prices, and besides all that it's hard to get around.
The Fair is amazingly enormous and truly exhausts you. So, you might ask why do I, as a representative of Mojo Stumer Associates, come back year after year and torture myself. The simple reason: DESIGN and the love of Architecture and Interior Design. There is no better place in the world to grow your design vocabulary and see the state-of-the-art in furniture and accessories, amazing displays at the Salone, along with the architecture and interiors of the store designs throughout the city of Milan – it's truly magical.
I see so much new furniture and products that can be used in our Mojo Stumer Associates architecture and interiors. It's important for Mojo Stumer Associates to always be specifying new products along with standards we love. I also see the most amazing accessories and products that can be used to complete and complement our architecture and interiors. I see new materials and the way they are creatively integrated into projects, which helps us integrate these amazing new products into our work in both architecture and interiors.
I get blown away by the lighting. The new lighting products never cease to amaze me with their ingenious ingenuity. Mojo Stumer Associates is known for its unique lighting solutions and the use of interesting fixtures that help to make our projects special. I see so many new and exciting items in all these disciplines that my mind goes into design freeze.
Mojo Stumer Associates approaches all its design projects with a concept of a functional and exciting architectural environment that can stand on its own, complemented with a creative and comfortable interior that contains a mix of texture and material supported by functional yet creative lighting. When all these elements come together projects come alive and create a truly special environment and a unique experience that supports the end-user, whether commercial or residential.
So, again, why do I go? Simple … DESIGN. To MAKE BETTER DESIGN. To get inspired and grow the Mojo Stumer Associates vocabulary and to always make our projects special.
Tags:
Architecture
,
Blog
,
Collaboration
,
Community
,
Corporate
,
Design
,
Events
,
Furniture
,
Inspiration
,
Installations
,
Interiors
,
Lighting
,
Modernism
,
New Materials
,
News