The kitchen is the place where culinary skills are put to the test, conversations are ignited, and lifetime memories are made. Many people consider the kitchen to be the heart of the home, the central gathering place where everyone is welcome and entertaining commences. Here at Mojo Stumer, we have designed our fair share of kitchens over the years, and we are here to highlight the trends that are taking off this year.
Mixing Textures
A kitchen is only as good as the layers it possesses. Mixing textures within kitchen design has become key, and we're beginning to see designers play around with as many textures as humanly possible- a much more maximalist approach. We believe there is a healthy medium between using one texture or twenty, so let's jump into a few of our recent designs for further inspiration.
Above is one of our Miami penthouse projects, where we wanted a contrasting kitchen without making it overbearing. The final product includes marble, two-toned custom lacquer cabinetry, stainless steel, varied backsplash colors, and a hint of concrete. The space feels cohesive and clean at the same time. It also mixes textures to bring more dimension to the space.
This next kitchen comes to us from our Water Mill Residence project, where we incorporated a large, white island with handless cabinetry. The juxtaposition of the glossy finish of the white cabinets with the wood-paneled units in the back gives it a light and airy feel while still mixing textures. The white wood paneled ceiling brings in warmth, and the neutral tone floors ground the space and contrast the white stone on the oversized kitchen island.
Integrated Kitchen Seating
Creating an optimal flow from the kitchen into your living spaces can be challenging. Along the way, we have adopted a kitchen classic and flipped it for modern design's sake- customized, stylish built-in kitchen seating. These spaces are meant for cozy conversations and lazy breakfasts in a more intimate setting.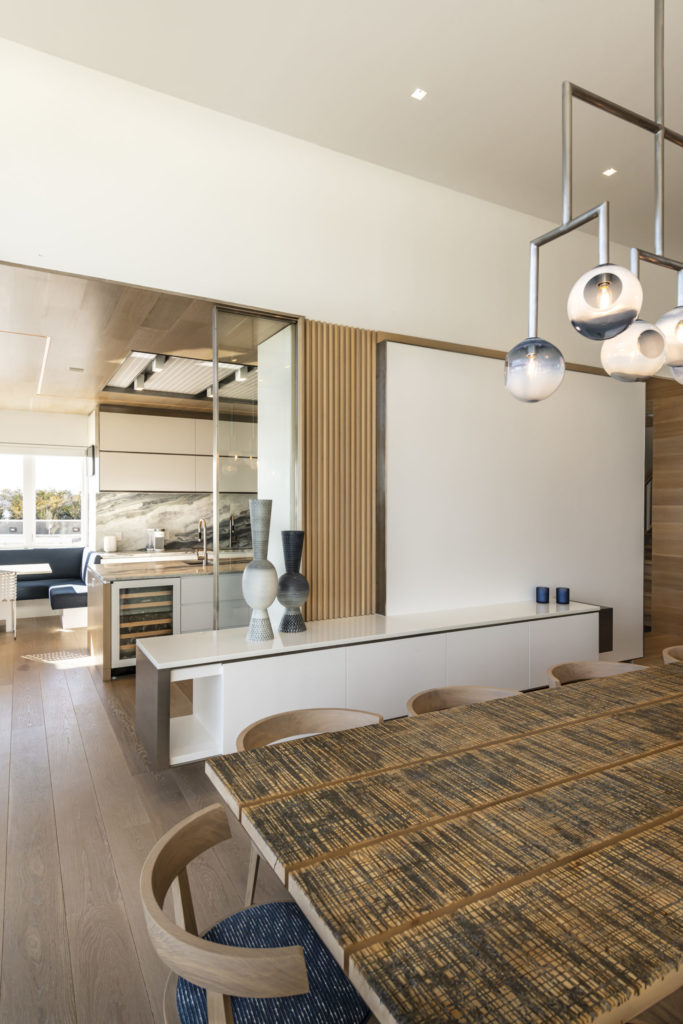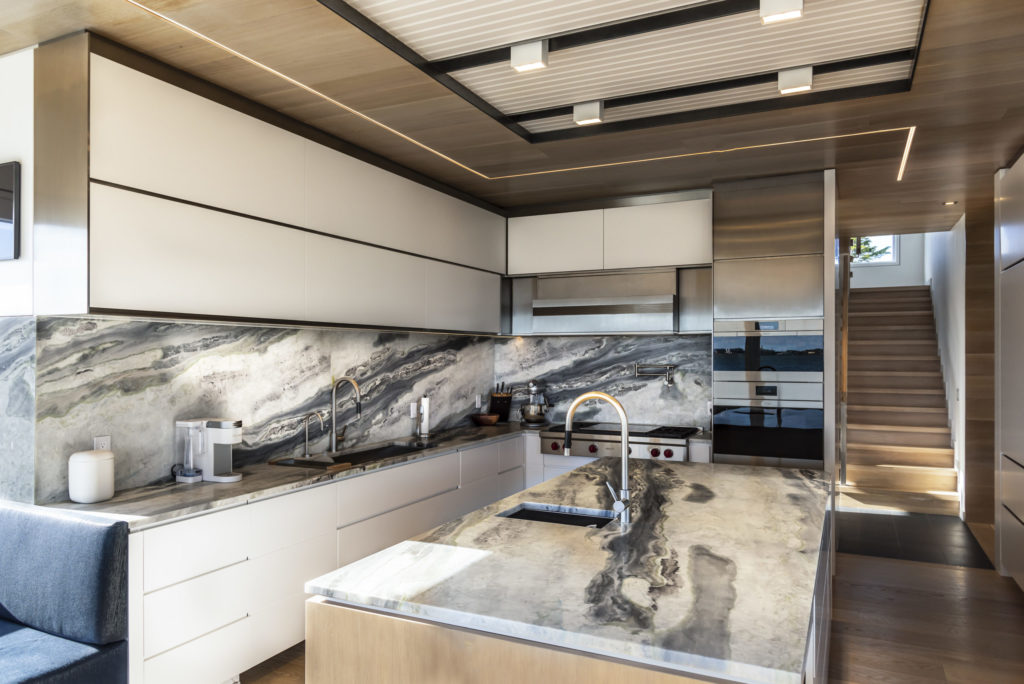 Starting with our Quiogue residence project, we realized that there needed to be extra seating closer to the kitchen rather than the actual dining room. Since the kitchen island in this project has no seating, it was really important to have a space where the family can convene while meals are being prepared. The result? A striking built-in bench that backs up to the existing kitchen space, meeting the countertop with a perfectly leveled edge.
Inside our Miami penthouse project, we created a communal eating area off the kitchen, which allowed for maximum seating. A dining table could do, but we opted for floating, built-in bench seating that backs up to a beautiful marble slab attached to the kitchen island. The addition of the raised steps surrounding the built-in dining area creates some dimension and separation, all while keeping the physical space open for conversation and sweeping views of the Miami beach.
Oversized Kitchen Islands
Kitchen islands have been a staple in many kitchen spaces for a while now, and we are beginning to see them grow bigger by the year. The simple kitchen island used to boast a small countertop (or butcher's block) and a few drawers or cabinets. They maybe had a seat or two for kitchen eating, but that was about it. Nowadays, we are seeing oversized islands (sometimes the full length of a kitchen), with 4+ seating options and more storage space than someone will know what to do with. Kitchen islands have now become a centering statement piece, sometimes with contrasting colors, varied materials, and kitchen appliances galore.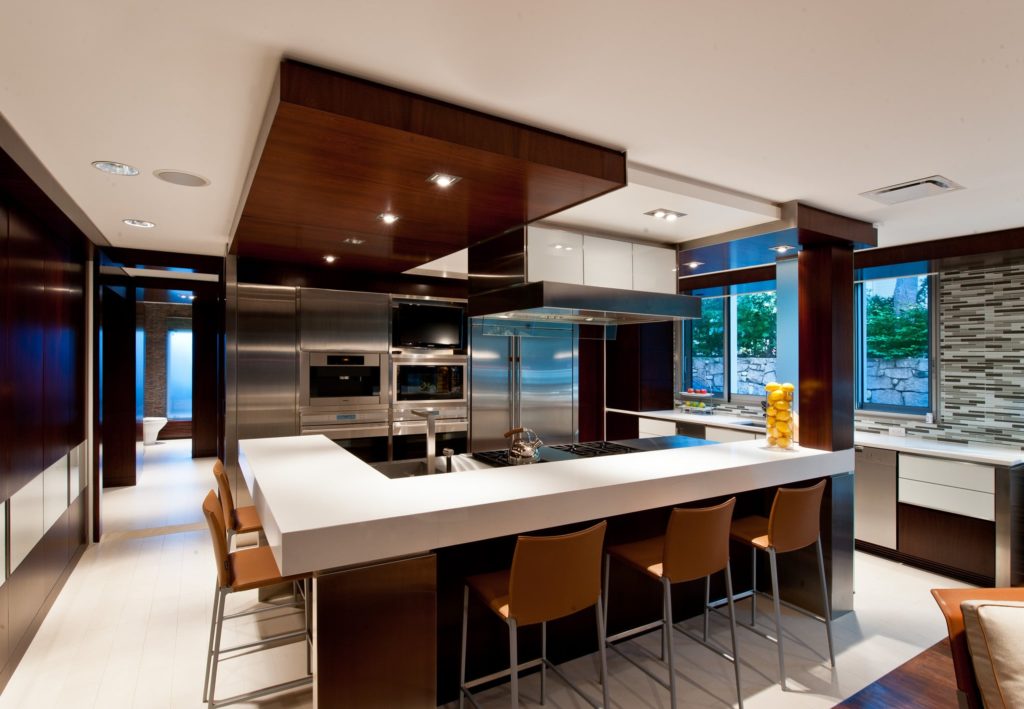 At our King's Point residence project, we created an oversized island that features an elevated seating area with more mixed textures! The white stone bar top complements the stainless steel top on the working area, and it blends perfectly with the stainless steel legs and the contrasting wood accents on the ceiling. The stainless working top comes with a full range in the middle and an extra sink for convenience. With full seating for 5, this oversized island is an entertainer's paradise.
This next island is from one of our First Avenue apartment projects, where every inch is key in ensuring that the client gets the best use out of their space. This is a fully working oversized island- and even though it has no seating around it, storage and functionality take the cake here. With a range and a hood, as well as multiple other appliances and storage cabinets, this island is fully chef-approved.
Open and Closed Concept Kitchen
For years now, we have seen the rise of the ever-so-popular "open-concept kitchen." It bleeds cohesively into the living and dining areas, sometimes without a single wall in between. These spaces are great for entertaining large crowds, and it makes watching your kids play while you're making dinner a whole lot easier. Recently though, we have seen the rise of the opposite, the closed-concept kitchen. By this, we really mean a flexible concept kitchen, with the ability to close it off or have it open when family and guests are around. It creates the ability to have a quiet space to cook, bake, or simply enjoy your morning cup of coffee without interruption. We have an example that may pique your interest in this trend.
In our White Gate residence project, we were challenged to create a clean, inviting kitchen space that had the ability to be open or closed off to the rest of the living space. We utilized these beautiful doors with aged glass for a more vintage look while pairing them against the stark white tile floor to add contrast. There are other ways to enter the kitchen, though, with a nice doorway leading into the formal dining room for easy access to the kitchen when serving food. The white paneled ceiling adds warmth to the space to offset the chilliness of the tile floor, and the marble slab oversized island anchors the space in the middle.
Mojo Stumer Knows Best
Here at Mojo Stumer, we pride ourselves on the quality and consistency of our designs. We hope that these 2022 kitchen design trends will further your inspiration for design in the future. If you are interested in working with us to start fresh in your kitchen, contact us today to receive personalized help in bringing your dream space to life!