The intersection of furniture, interior design, and architecture is a place where perfect harmony can be achieved. Through the combination of textiles and materials, architectural backdrops, and functional spaces, it is possible to create a synergistic space that speaks to the client in its own unique way.
The importance of furniture in interior design is incredibly high, as it is what grounds a commercial or residential space. By bringing together pieces of furniture that complement each other as well as the space itself, a balanced design is born.
Where to Start
The interior design process is one that is often dumbed down as the "decoration phase." Interior design, however, is a discipline that is best carried out in collaboration with the architect on any given project. Whether it's an 8-story medical building or a 2-story private residence, the furniture and architecture should be able to speak to each other in a way that brings out the best in each other. Paying attention to the details of the walls and their curves and straight lines helps to determine which types of furniture fit best in the space. A curved wall with a lot of windows can be complemented with a half-circle couch instead of a rectangular couch that would take up unnecessary space. Many rooms and hallways are designed by architects with certain uses in mind. By analyzing the space with the architects before designing, the interior designers at Mojo Stumer are able to properly carry out the collaborated vision. 
Furniture's Flexibility
One of the key things to consider when designing a space for furniture is that spaces fluctuate over time. A bedroom may not always be a bedroom, and an office may not always be an office. These changes mean that the furniture itself needs to be flexible enough to respond to possible changes in the future. The best way to prepare for this is to look for furniture that isn't going to be immovable. Stationary/fixed pieces of furniture that are custom-made for spaces are often utilized more than they should be, so finding a healthy balance between the two allows for more flexibility of the space down the road. The more customized furniture is in a home or an office, the harder it will be to transform the space when needed.
Flow of Movement
The reason why furniture for interior designers is so critically thought out is that they have to take into account what the flow of the space will feel like. There are many spoken and unspoken rules when it comes to the layout of any interior space, one of the most important being that there should not be any movement paths directly through groups of seating areas. Offices should be easily accessible and not difficult to move around in, while homes should have distinct areas created by furniture grouped in different ways. Many designers keep Feng Shui in mind as well when considering the pattern of movement around a space, no matter if it is a residential or commercial building. Keeping a spiritually balanced space can be great for health, wealth, and harmony. 
Furniture and Architecture
The combination of these is what brings a space to life. By defining and structuring spaces by using thoughtfully curated furniture, Mojo Stumer is able to create beautiful designs that complement one another in the best way possible. In one of Mojo Stumer's projects with Esquire Bank in Long Island, the team was able to ensure that every office workstation had natural lighting while having ease of access to the rest of the building. Distinct huddle and conference rooms have flow-functioning furniture to make the most of each space. By using multiple different textures and metals, Mojo Stumer was able to design an office space with depth and dimension.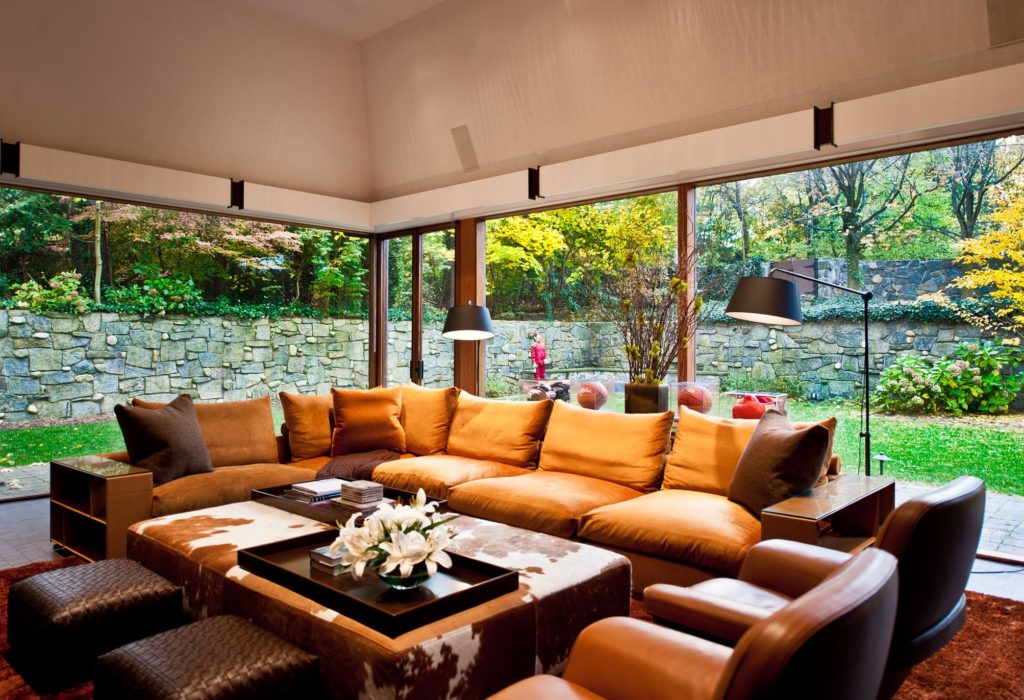 From a residential perspective, Mojo Stumer worked on the Kings Point Residence to create a space that was functional and creative at the same time. By pulling in unique pieces of furniture that each serve a purpose, Mojo Stumer's interior designers were able to seamlessly integrate furniture and architecture into one beautiful residential space. For this project, our team utilized comfortable yet modern furniture that acted as a medium between the outside views and the inside detail.
Why Mojo Stumer
We are a New York based architecture and interior design firm with a 40-year history of award-winning modern design.  Located on Long Island, New York, our interdisciplinary design studio focuses on all phases of architecture and interior design projects, from conception through completion, across all programs and typologies. Our architects work hand in hand with our interior designers to create the most cohesive plans possible while incorporating the importance of furniture in interior design. Mojo Stumer is the leading architectural and interior design firm in New York City, contact us today for more information on how we can help you to create your dream.