Main conference rooms are unlike any other space in an office building. Some of the greatest, most crucial ideas are often conceived, debated, and put into action all within a conference room. The ambiance needs to be optimal for communication to flow. The best architectural insights are often needed to create such an atmosphere – insights that we capitalize on when designing conference rooms for our clients.
POINTS TO CONSIDER
When designing a main conference room, architects make sure to consider the placement and transparency of the room before moving further along. Many companies want their conference rooms to be open and fully glass surrounded for openness and transparency, while others may want their conference rooms to be slightly more private for handling executive business. Investing in high-quality sound and audio is imperative now in 2022 with the rise of virtual meetings and calls being a new normal. Making sure that the furniture is movable (especially the chairs) will help employees and clients feel more comfortable while sitting in on meetings. Another important note is to keep in mind the size of the conference table, making sure it is large enough to accommodate all of the guests who may be included in routine meetings in these rooms. Lastly, being careful with color and natural lighting is important to have the correct balance in the space without causing any unnecessary distractions.
BWD INSURANCE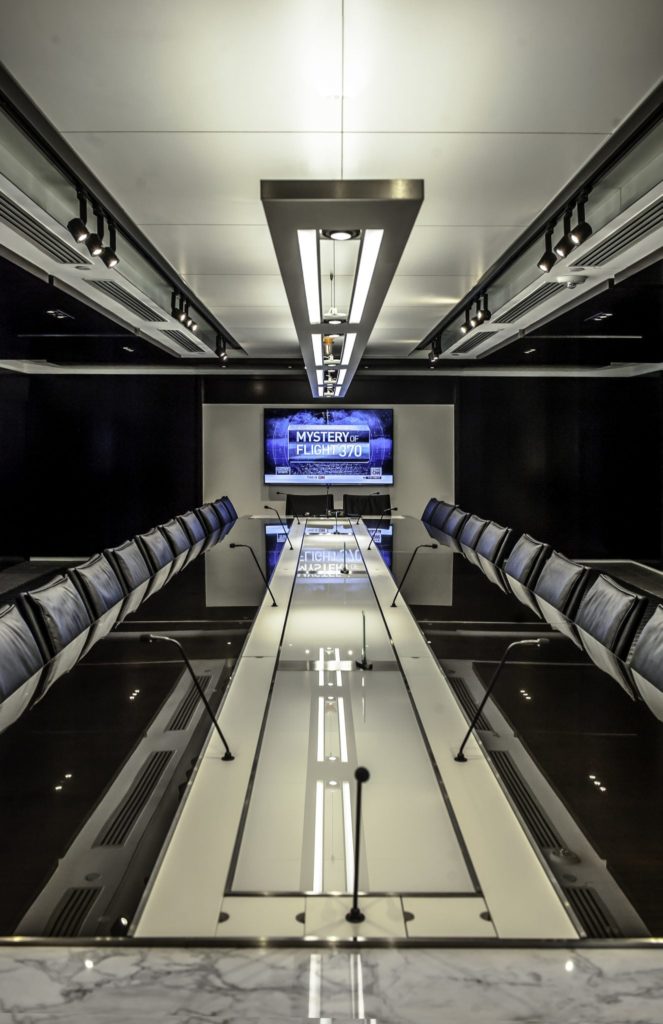 Above is the main conference room we created for a major insurance company. For this project, the client requested a luxury conference room with a very high-end look and high-quality finishes. The requests were perfect considering the high level of work that takes place in the conference room. Where does the most important person in the room sit? That's right, at the end of the table in between both rows – so we complemented the end with a marble finish. The lighting allows for maximum visibility encouraging activity and a feeling of energy within the room. By integrating multiple layers of glass and marble as well as wood, the interior designers were able to create a space that feels professional and ambient while not compromising light or productivity.
Check out some of the other main conference rooms we have designed below, such as the one we designed for the headquarters of Esquire Bank – a bank that specializes in dealing with attorneys and the legal industry. The artwork shown depicts the New York State Supreme Courtroom – dating back to the 1800s, which is where all new attorneys who passed the BAR Exam were sworn in. A little bit of rich history is always appreciated in conference rooms and taking the time to uncover the client's wants and needs is necessary to meet the standards that we set for ourselves. Mojo Stumer is the leading architectural and interior design firm in New York dealing with private, public, and personal architecture and design.