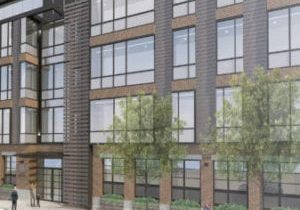 The suburban apartment building has come a long way – sophisticated buyers or renters are no longer happy with the simple brick building, but are looking for a touch of Manhattan as they come out to the suburbs. This is not only in lifestyle, but now in their architecture too.
Communities like Great Neck are trying to re-plan their downtown centers with more residential to help grow the retail and city development. The new streetscape must be well designed or these projects will not bring the people these Long Island towns desperately need.
These communities are also demanding a higher quality of architecture in all their buildings, but especially apartment buildings, which are the face of many of these residential communities.
Mojo Stumer is involved in three new apartment buildings on the North Shore. Our experience in high-end residential work both in private apartments and homes over 35 years enables us to bring a very sophisticated approach to the apartments, raising the design level and improving the lifestyle of the inhabitants. The level of details is recognizable by future residents and raises our projects to a higher level. Remember … it's all in the details.
Not only does our attention to detail go into the apartments, but also into sleek, impressive lobbies, creative corridors and expected amenities like lounges, gyms, meeting rooms, party rooms and all outdoor spaces.
We are experienced in all these elements and bring our apartments and interior design talents into all of them. For over 35 years, MSA has been doing its own interiors on all our projects. This experience enables us create apartments that are not only laid out functionally but accommodate furniture layouts effortlessly. Room proportions must work with interior concepts.
In our façade architecture we create a modern building that has the elements of low rise city townhouse architecture with the texture of the city streetscape. We overlay materials and form to create an exciting elevation that works with window grids capturing as much light as possible but maintaining a residential feeling, not office. Our architecture always speaks for itself. Here are three examples of two new apartment buildings we are presently working on.