This week, we're talking about the important elements of design necessary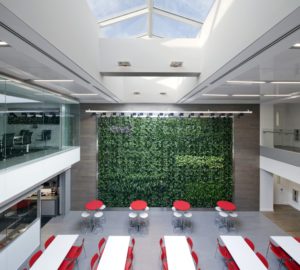 for the creation of lobbies. The first lobby to talk about is one we created for North American corporate headquarters – Luxottica (pictured right) – the largest distributor of eyeglasses in the world. To this Italian-owned company, design and optics (insert glasses pun here) are important, as they should be. Upon entrance into the main lobby, the company's product and mission are immediately clear and emphasized with a dramatic double height space. For a company that sets the standard for sunglasses, we wanted to allow as much skylight as possible into the common areas – creating a sunny, daylight feeling. The cafeteria is a sunny and lush oasis for employees to enjoy a space designed for relaxation. With this project, we're most proud of the fact that we truly created a 'Town Square' effect where the design is the foundation of a fundamentally collaborative and social space.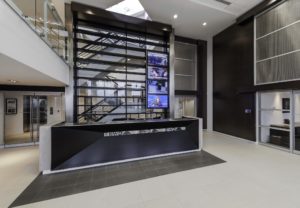 Another lobby (pictured left) is for an insurance company (that insures pro sports leagues like the NHL and NBA) that wanted to break free from the 'boring' stereotype that insurance companies are associated with. The TV's are always set to be streaming sporting events associated with the company's work – setting the impression for their corporate identity immediately upon entrance. The transparency through to the office and the 2-story lobby gives a great open-air, collaborative feel buzzing with activity. Here, the reception desk truly becomes a work of art in and of itself.
Lobbies are so important considering they are the first physical representation of a company's space that clients and employees will see. Modern architecture can go a long way in designing the perfect lobby for a company and its employees. Check out some pictures of some of the other lobbies we have designed below!